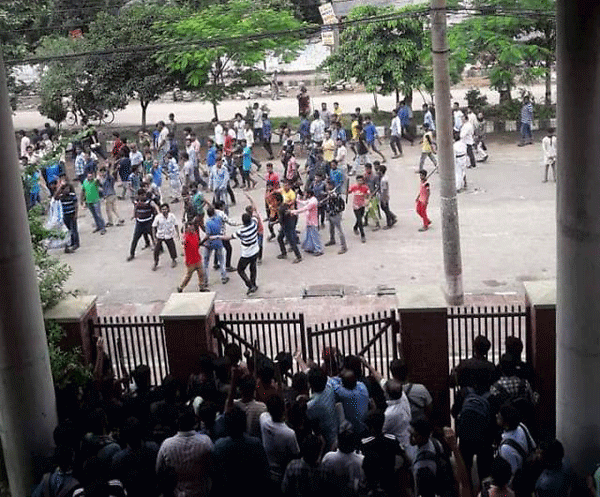 Members of police and Bangladesh Awami League harassed staff correspondent of Prothom Alo Nasrin Aktar while reporting violence between the law enforcement and a group of students in front of the East West University in Rampura area of the capital.
They pushed her, abused her verbally and and snatched her mobile phone.
While taking notes on the violence around 1:00pm on Monday on the spot, five or six activists of the ruling party snatched her mobile phone and pushed her even after she said she was a journalist.
At one stage, a team of women police came and forcefully took her to the Badda police outpost and verbally abused her.
"Why have you come here? Have you come here to steal?" the police asked Nasrin and harassed her. 
The police released Nasrin Aktar fifteen minutes after her detention and finally returned her mobile phone.
When asked about the matter none of the law enforcement except Badda police station's additional police commissioner Mantajul Ahsan Humayun Kabir commented.
Mantajul said, "We are in preoccupied, phone me later."
The university students of the country on Sunday joined the protesting students of different schools and colleges, who have been staging demonstrations for the last nine days demanding justice for death of their two fellow students, who were killed in a road accident in the city on 29 July.