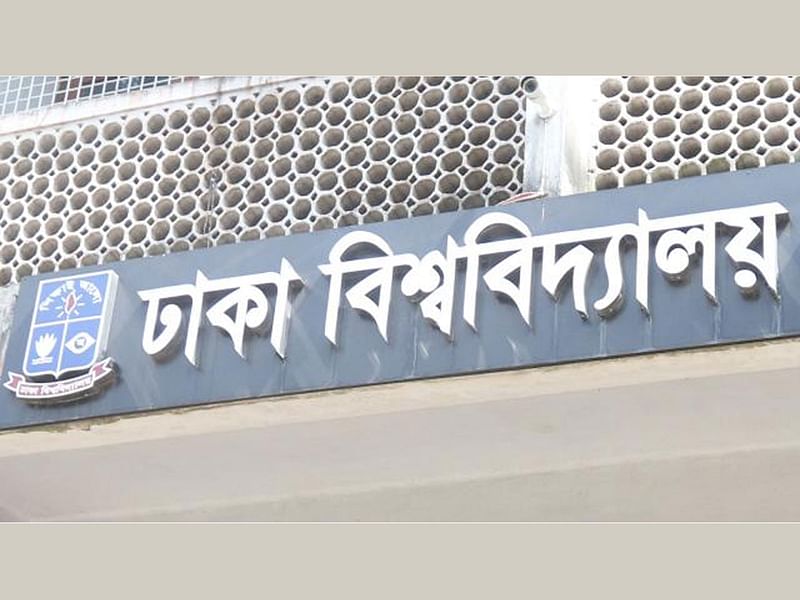 Associate professor of pharmaceutical technology department at Dhaka University AK Lutful Kabir acquired his doctorate degree from the same department in 2015 submitting an almost cent per cent plagiarised PhD dissertation, a Bangladeshi researcher and a professor of a Swedish university have alleged.

The Bangladeshi researcher is from the BRAC University while the name of the Swedish professor is Jonas Nilsson, from Gothenburg University.

Co-supervisor in Lutful Kabir's doctoral research said he did not get any copy of the dissertation despite asking for it several times.
The associate professor is currently carrying out the duties of an assistant proctor at DU.
AK Lutful Kabir began his research titled 'Tuberculosis and HIV Correlation and Co-infection in Bangladesh: An Exploration of Their Impacts on Public Health' in 2014. Professor Abu Shara Shamsur Rouf of the pharmaceutical technology department was his supervisor while professor ABM Faroque was the co-supervisor.
Sources said Lutful Kabir took record one and a half years to complete writing his dissertation, which generally takes at least three to three and a half years. Then he submitted the copy to the university for the degree in 2015. The registrar building of the university sent the dissertation back to Lutful Kabir as it did not have signature of co-supervisor professor Faroque.
Later, professor ABM Faroque signed the dissertation as Lutful Kabir requested him earnestly and he submitted it to the authorities again. The DU academic council and syndicate accepted the dissertation in 2015.
A researcher in September 2019 filed a written complaint to Dhaka University vice chancellor Md Akhtaruzzaman against Lutful Kabir finding 98 per cent of the dissertation is plagiarised.
Professor Jonas Nilsson of Sweden's Gothenburg University also sent a letter to the DU VC alleging that Lutful Kabir plagiarised from his research. He also requested to take a legal action against Lutful Kabir.
Confirming about the two letters, a source from the VC's office told Prothom Alo that the Pharmacy faculty dean was asked to investigate into the matter. Dean ASM Abdur Rahman said he could tell about the allegations in detail after investigating into it.
Prothom Alo collected a copy of the dissertation and checked it using Turnitin, an Internet-based plagiarism detection service. Results showed 98 per cent of Lutful Kabir's PhD dissertation was plagiarised from a paper submitted by a BRAC University researcher cum student in 2012. He plagiarised from another 16 research papers. Prothom Alo has the report results provided by Turnitin and all the documents related to it.
Speaking to Prothom Alo, Lutful Kabir avoided giving answers to questions regarding the matter directly. He said, "The university authority has acknowledged my research in 2015. It was published in an internationally acclaimed journal of the UK. I don't know why the allegation has been brought after so many years. If there's any wrongdoing, the university authorities and my supervisors are responsible for that. I don't have anything to say about it."
When Prothom Alo started its investigation, Lutful Kabir 'illegally' scratched his dissertation paper, kept at the university's central library.
Acting librarian of DU central library professor Md Nasir Uddin Munshi told Prothom Alo, "We've seen scratches in the PhD dissertation of Lutful Kabir. Someone has done this illegally as there's an allegation of plagiarism. An investigation into the incident is required."
Lutful Kabir's PhD research supervisor professor Abu Shara Shamsur Rouf did not respond to Prothom Alo's phone calls or text messages. Recently he has been relieved of all the academic activities of a batch on allegation of threatening students of that batch.
Speaking to Prothom Alo, Lutful Kabir's co-supervisor professor ABM Faroque said in spite of his various engagements, he agreed to supervise the research as professor Abu Shara Shamsur Rouf requested him to. But Lutful Kabir never consulted him and submitted the dissertation in a very short time without taking his signature.
"Lutful Kabir did not contact me after starting the research work. Just after around one year I heard he has submitted the dissertation. In general it takes three to three and a half years to complete PhD research. He did not give me any copy of the dissertation or took my signature. I was astonished. After a few days, he came to me and requested to sign the dissertation, may be when he was about to send it to the academic council or it was sent back by the council. I asked him, how did you complete the research in such a short time? He said he worked very hard to complete it quickly. Out of sympathy to junior colleague I signed the research paper. But I could not imagine the dissertation was plagiarised. No allegations were brought against it then. There's no plagiarism checker at Dhaka University at that time as well. Dhaka University started using the software in 2017. I would never have signed if I knew the dissertation was plagiarised," ABM Faroque said.
DU pro-vice chancellor (education) Nasrin Ahmed told Prothom Alo, "It is a matter of great sorrow if the plagiarism accusation brought against the PhD research is true."
"Allegations can be brought any time," she said when Prothom Alo told her about Lutful Kabir's remarks - why the allegation has been brought against him after so many years.
*The report, published in Prothom Alo Bangla online, has been rewritten in English by Shameem Reza.