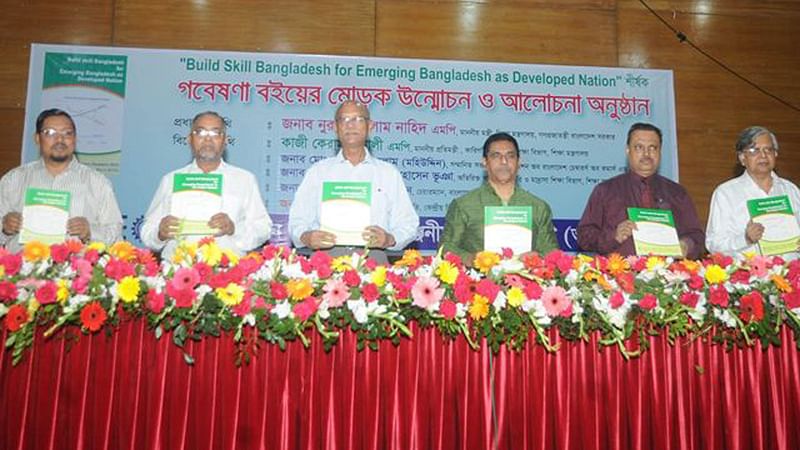 A study has found the national efficiency in terms of the workforce productivity in Bangladesh is still very low comparing to that of many other countries, reports UNB.
Mismatch between education and occupation has also got its impact on such low efficiency level, observed the study carried out by Institute of Diploma Engineers, Bangladesh (IDEB).
Research anthology titled 'Build Skill Bangladesh for Emerging Bangladesh as Developed Nation' was unveiled on Sunday at IDEB in the city.
IDEB came up with the findings by analyzing at least 57 national and international research based books, case studies and survey results.
The research showed that the Bangladesh workforce productivity in service sector, in terms of GDP, was 23 per cent of Thailand, 24 per cent of Sri Lanka, 29 per cent of China, 45 per cent of India and 65 per cent of Vietnam.
According to the study, in agricultural sector the productivity of Bangladesh was 18 per cent of Malaysia, 13 per cent of Japan and 8 per cent of Australia whereas in the industrial sector the productivity were 61 per cent of India, 4 per cent of Malaysia, 1.3 per cent of Australia and 1 per cent of Japan.
The study found the prime cause of the low-level efficiency is the disconnection between the education qualifications with the occupational demand of the employment market.
It said at least 61 per cent public universities' students enrolled in Arts, Humanities and Social Sciences whereas 40 per cent private universities' students awarded higher degree in Business Administration. However in applied sectors like engineering, science, technology and ICT, the ratios are 12 per cent in public universities and 28 per cent in private universities. These huge numbers of graduates are not being able to contribute in technical sectors for which Bangladesh was not getting enough skilled manpower.
It estimated that the working age population in Bangladesh will reach 128 million by 2030 and if the huge population is not turned into skilled manpower it will bring economic burden.
According to the analysis of population potential and challenges, it said, after 2030 the working age population will start decreasing. It will lead the country to 'demographic trap' which means economically dependent people will increase than the working age people.
The study recommended making an action plan with the involvement of all political bodies, government and non-government organisational sectors, national educational and skill development authorities, research institutes and financial support giving bodies.
Education minister Nurul Islam Nahid unveiled the book cover while state minister for Technical and Madrasa Education Kazi Keramot Ali, the Federation of Bangladesh Chambers of Commerce and Industry (FBCCI) president Md Shafiul Islam Mohiuddin, additional secretary of Technical and Madrasa Education Division AKM Zakir Hossain Bhuiyan also addressed the programme with IDEB president AKMA Hamid in the chair.