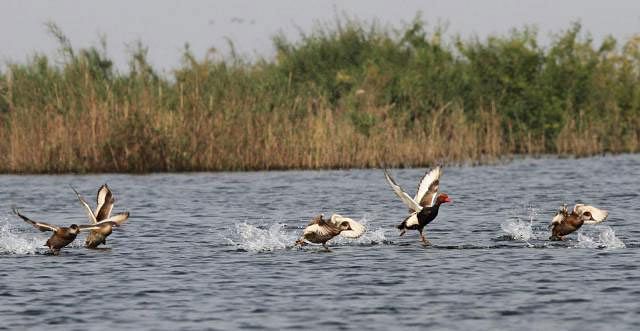 Once a land of indigenous and migratory birds, Bangladesh is witnessing rapid decline in the number of birds in recent years, conservationists say.
In the country's coastal belt and Sonadia island in particular, the population of birds, as suggested by their movement, came down to a half in a year.
Countrywide, the number of birds as counted by their presence here and there, declined by 40,000 this year compared to a year before, according to a census.
Enumerators of International Union of Conservation of Nature (IUCN) witnessed the least availability of birds at different points across the country this year.
There were around 800,000 birds in 1994 - a population that decreased to 233,000 in 2017 and further to 163,000 in 2018.
Members of birds clubs and bird watchers blame changes in the weather and climate and excesses in the form of human activities affecting the sanctuaries of birds for this decline.
Certain deterioration in the habitats for the birds led them to migrate elsewhere, the experts said.
"The number of birds has been declining consistently over the years and this is an indication of decline in environment," said bird watcher Enam Ul Haque.
He also pointed out that most of the birds that are seen in the country are migratory birds and if they have difficulty in finding shelter in a place, they migrate to elsewhere.
Members of bird clubs and IUCN carried out the census in a few major spots - Sonadia island, Tanguar Haor, Hakaluki Haor and Baikka Beel - in January and February this year. The availability of birds has been thinner in most places.
Wildlife specialist Reza Khan added that excessive use of fertilisers and pesticides in farming as well as felling of trees contributed to the fall of the populations of birds.
"Unless we allocate certain areas such as chars, the coastal belt and islands to create safe habitats for birds, we may one day see no birds at all. That would be devastating for us," he told Prothom Alo.
* This report, originally published in Prothom Alo Bangla edition, has been rewritten in English by Khawaza Main Uddin