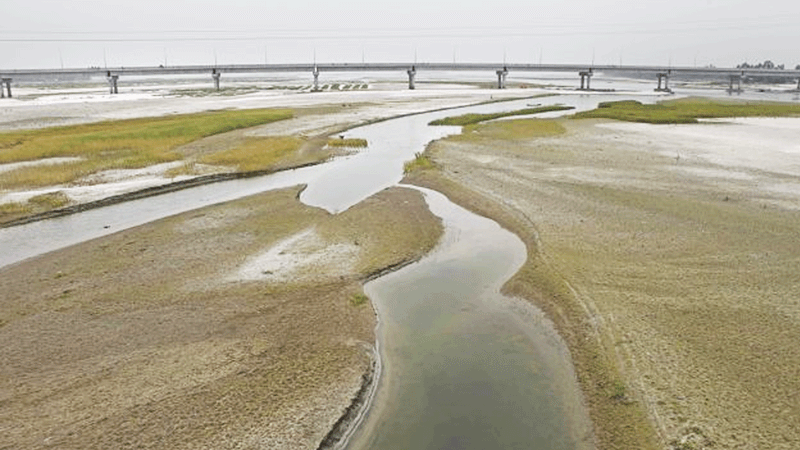 It was interesting this week to talk about the river Teesta with a large number of people along five points of the river in Kurigram, Lalmonirhat and Nilphamari districts. The people who lived by the river in Chilmari and Rajarhat of Kurigram, Kaliganj of Lalmonirhat and Dimla upazila of Nilphamari, shared their experiences. They all had one common determination - Teesta's water flow must be maintained throughout the year. They suffered when the river's water flow dwindled during the dry season, but they now faced the same suffering even during the monsoons. From 2014 India unilaterally withdrew water from Teesta, pitching the population dependent on the river into grave danger. While Bangladesh and India's friendship is visible in many spheres, it is not manifest when it comes to rivers.
Bangladesh and India have long been holding talks concerning the sharing of Teesta waters.  It was at the very second meeting of the Bangladesh-India Joint Rivers Commission, held a year after Bangladesh's independence, that the Teesta issue was raised. Ten years after that, in 1983, a two-year interim agreement was even signed. According to the agreement, Bangladesh would get 36 per cent of Teesta's water, India 39 per cent, and 25 per cent would be kept for the river's navigability.
The agreement termed ended in 1985 and then was extended by two years. But no fresh agreement was signed regarding Teesta after 1987. A Teesta water-sharing agreement was supposed to have been signed in September 2011. We had demanded a fair share of the water for Bangladesh. We have not received that fair share. In fact, seven years have passed since then and no Teesta deal has been signed. There seems no possibility of any such agreement in the near future.
In keeping with the 1997 International Water Courses Convention, a law was enacted on 17 August 2014 for shared rights to shared rivers. Since then, this day has been observed as International Rivers Day. Unfortunately, Bangladesh has not ratified this convention. And so it is not prepared to the raise its demand with the UN for its shared rights to shared rivers.
Teesta does not stand alone. If Bangladesh fails to establish its rights on Teesta, then its rights will also be uncertain when it comes to 53 other rivers which flow into Bangladesh from India. India will gradually withdraw water from all these rivers. The Teesta issue must be resolved while there is still time.
A few river activists of India visited Bangladesh recently. They included Soumya Dutta, convenor of the Energy and Climate Group, Ayesha D'Souza of International Rivers and Arnab Bhattacharya of North Eastern Society for Preservation of Nature (NESPON).  At a meeting with the organisers of Begum Rokeya University's Riverine People, when they were asked about India's unilateral withdrawal of river water, Soumya Dutta said, "We have been saying that the barrages are harming the rivers. All the barrages must be removed. Kalyan Rudra's observations regarding Teesta must be made public. The river must be shared on the basis of the volume of water. We have been saying this in India. That is why they call us Bangladesh agents, traitors."
Arnab Bhattacharya said, "It is not just the people of Bangladesh who are suffering due to the withdrawal of water at Gazaldoba. The people of West Bengal are also suffering because of this. Ever since the barrage was constructed there in 1979, the people's sufferings have increased and so has river erosion."
The barrages are not doing any good for the people of Bangladesh or India. India is realising the barrage on the river Ganges is proving to be more damaging than useful. Neither the upstream barrage which India constructed on Teesta, nor the barrage built by Bangladesh has proven to be beneficial. The barrage has caused the riverbed in Siliguri to rise higher than the plain land and it is the same in certain places of Bangladesh. The silt is not being carried along due to the obstruction in the river flow. If this continues, Teesta will prove to be a curse rather than a blessing.
Even in 1990 Teesta has ample water. Gulzar Hossain is a first-class contractor of the Teesta irrigation contract. Talking on 14 August at the office next to the project, he said, during monsoons nowadays sometimes Teesta has the same amount of water which it had during the dry season at the start of this project. Teesta was very deep at the time.
Sadequl Islam, a local resident of Uttar Douabari in Hatibandha upazila of Lalmonirhat, said that the barrage should be removed immediately. There is no water downstream from the barrage. The region there is becoming arid, unfit for agriculture and human settlement.
Teesta is 315 km long, 115 km of which is in Bangladesh. It is about 45 km upstream of the irrigation project's barrage and about 70 km downstream. This stretch often becomes dry. During March and April, sometimes only 150 to 200 cusecs of water is released from India.
India has unilaterally withdrawn the waters of an inter-boundary river like Teesta. Things will not bode well if Bangladesh adopts a subservient stance. India's central government cannot simply evade the issue by saying that West Bengal chief minister Mamata Banerjee is against the Teesta agreement. Bangladesh must step up its diplomatic efforts. A couple of years ago Mamata Banerjee mentioned the rivers Jaldhaka and Torsa as alternatives to Teesta, but there can be no alternative to Teesta. Whether it is through legal means or diplomatic efforts, Teesta's waters cannot be relinquished.
* Tuhin Wadud is a teacher of the Bangla department of Begum Rokeya University and director of Riverine People. He can be contacted at [email protected]. This piece has been rewritten in English by Ayesha Kabir