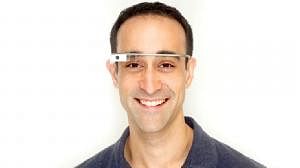 A doctor can assess a patient's entire medical history just by looking at the patient. The last medical test results, blood pressure levels, sugar levels, even what medication the patient is currently on, all is revealed. This is done with the help of a special pair of glasses or spectacles known as Google Glass.

This unique device has begun to revolutionize medical management worldwide. Bangladeshi-origin American national Ian Shakil, co-founder and CEO of Augmedix is the mastermind behind the software of this device that has brought a wave of change to medical management. Augmedix has an associate company in Bangladesh where the research and development of the software has taken place. All future work towards improving this software will be carried out in the Dhaka-based company which has attracted a large number of investors from Silicon Valley. So far, among other investors an American venture capital firm DCM Ventures has invested USD 19.2 million. Augmedix will soon employ and train 7,000 Bangladeshi youths to become highly skilled technological experts. 
In the beginning, American doctors were the main consumers of this product. However, the device will soon gain popularity in other countries that have an online health database.
A product by tech giant Google, Google Glass is special spectacles that simultaneously display information on the glass lens as well as allow the wearer to view the surroundings normally. The device is connected to the internet or the cloud, from which it provides all necessary information.
Revolutionizing medical management
All health information of patients in technologically advanced countries is recorded on computers, through the Electronic Health Record (EHR).  However, it is time consuming for a doctor to look up a patient's past records, health information or other details on a computer. Even in the US, doctors spend 25 per cent of their time with patients looking up their information.
Augmedix has created a software based on Google Glass that helps to save time during a doctor-patient consultation. Since the Google Glass is connected to the internet, a scriber can find information on a person's medical health and provide that information to the doctor.  Since the device is a two-way form of communication, it is a step ahead of other conventional methods of medical transcription services.
Bangladesh in the picture
Ian Shakil, co-founder of Augmedix is the son of Bangladeshi citizen Kazi Shakil and American citizen Diane Melon. After completing his undergraduate studies in Biomedical Engineering from Duke University, Shakil went to Stanford University in California for his MBA. After working in different companies, Shakil began his own start-up with American Pelu Tran in 2012. The start-up was named Augmedix.
Although Shakil was born and brought up in the US, he would make regular visits to Bangladesh with his father. It was his love for Bangladesh that inspired him to employ the youth for Augmedix. 
Shakil registered Augmedix as a local company in Dhaka, which is fully owned by Silicon Valley investors. Currently, the scriber service for doctors who use Google Glass is provided from India, Dominican Republic, Sri Lanka and Bangladesh. Over a thousand doctors pay around USD 1,500 - 4,000 monthly, for the service.
On 4 December this correspondent spoke to Shakil at his office in Panthapath, where Ahmadul Huq, the managing director of Augmedix was also present. 'Although the company is based in Silicon Valley, the main research, development and expansion of the software for Google Glass is being done in Dhaka,' said Shakil.
Shakil also said that if the young employees at Augmedix receive proper training, they can easily become world class workers. He also stresses on improving the English standards of his employees.
Appreciating Bangladeshi software developers and engineers, Shakil said 'They could have easily joined bigger companies such as Google or Facebook, but I am grateful that they instead chose to work for a start-up. We have made the company shares available for them.'
Fast Company, an American magazine that focuses on business and technology, has said Augmedix has 're-birthed Google Glass.' Augmedix has been named Tthe Number One Most Innovative Healthcare Company of 2016 by Fast Company.
On 8 December, Augmedix announced receiving an investment of USD 2.30 million from leading American companies Mackesen Ventures and OrbiMed.  Other healthcare companies such as Redmile Group, DCM Ventures, Emergence Capital, have invested almost USD 6 million in Augmedix.
Stakeholder Pete Morano of DCM venture has said the prospect of Bangladeshi youth reflects that which he found in 1990's China. 'Our investment in China in 1999 helped entrepreneurs to create current leading companies.  We are confident that our investment in Augmedix Bangladesh will also prove to be fruitful.'
Shakil hopes to employ around 7,000 employees at Augmedix, over the next five years.  The government also supports Shakil's decision to train and employ the youths of Bangladesh to become successful and technologically advanced scribers. Shakil believes it is crucial for Bangladeshi youths to explore their talents and nurture them, instead of focusing on increasing infrastructural facilities. He believes this will lead the department of Information and Communication Technology to attract more international investors.
This report originally published in Bengali, has been rewritten in English by Tazrian Rahman.