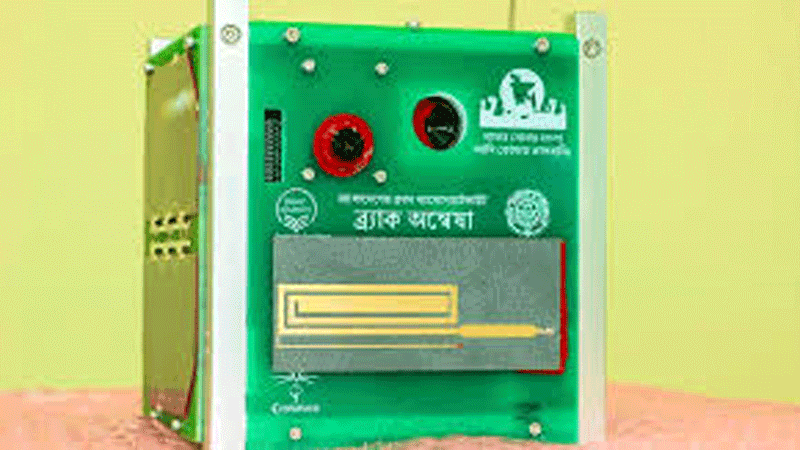 BRAC Onnesha, the country's first nano-satellite, started orbiting the Earth as it was released from the International Space Station (ISS) on Friday afternoon.

The satellite, made by three students of BRAC University, was launched from the ISS around 3:10pm (Bangladesh time).

The satellite, which was staying around 400 kms above the Earth surface, is taking 90 minutes to orbit the Earth.

It will be passing over Bangladesh four times in every 24 hours.

On 4 June, BRAC Onnesha was launched by SpaceX, FALCON 9 Rocket by its CRS-11 mission to ISS from Kennedy Space Center in Florida of the USA.

The ground station was set up on the rooftop of Building-4 of Mohakhali campus of BRAC University in the capital.

On 8 February last, BRAC University became the first Bangladeshi educational institution to get its very own nano satellite developed and assembled by three of its students -- Raihana Shams Islam Antara, Abdulla Hil Kafi and Maisun Ibn Monowar -- using technology and facilities of a Japanese university.

BRAC University arranged a discussion at its auditorium on Friday where Science and technology minister Yeafesh Osman was present as chief guest.

The discussion programme was followed by a videoconference with the Japan Aerospace Exploration Agency at 2:30pm.

In his speech, the minister thanked the three scientists for their outstanding invention. "Bangladesh will remember their achievement forever," he said.

BRAC University vice-chancellor professor Syed Saad Andaleeb said the satellite will send data and pictures for research on various issues, including agriculture, chronic diseases and urbanisation.

BRAC Onnesha will also send emergency signal during any calamity, observe the space and research the Global Positioning System, the VC added.

Chairman of University Grants Commission professor Abdul Mannan and Member of Bangladesh Space Research and Remote Sensing Organisation (SPARRSO) Hafizur Rahman were, among others, present on the occasion.