Physical challenge could not hold Fahimul Karim back. Though the 21-year-old youth from Magura is incapable of movement, he is earning from home working on the internet.
Fahimul works in online marketplaces like Fiverr and Upwork, like many others from Bangladesh.
But he is more successful than the others and the freelancers' groups are buzzing about Fahimul.
As an adolescent he did cycling, played cricket and studied attentively, but got bedridden in 2012 when he was an eighth grader at Magura Government High School. He was suffering from Duchene Muscular Dystrophy. His muscles shrunk due to the disease. Despite this he appeared in JSC exams, but could no longer go to school afterwards.
However, Fahimul did not give up, going on to become a successful freelancer.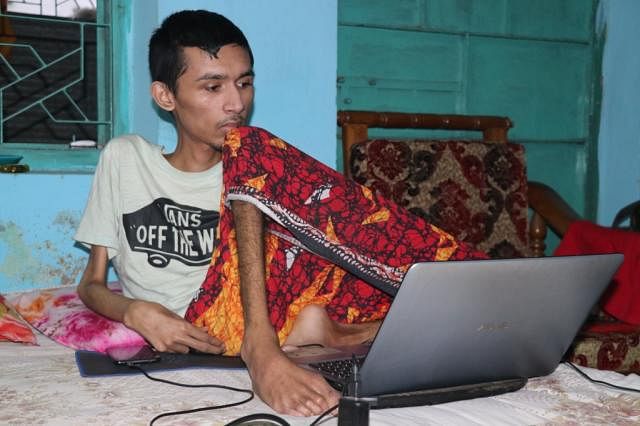 His father Rezaul Karim was an employee at a private company and his mother is a homemaker while his younger sister studies in grade IX. His life turned confined as he fell sick. He has to depend on other people for regular life and works.
But he was not dispirited and started working in the online market places. His rate is $8 per hour now.
"I lost my ability to move just two or three days before my JSC exams. The disease was from my childhood and my physician said I may live up to 18-20 years. I sat for the JSC exams in this situation and the grades were good. But later I could not continue my studies. I was curious about learning new things from my childhood. My mother brought the science books of grade IX and I read those on my own. I started teaching children at my home," Fahimul said.
Fahimul bought an Android phone in 2014 with the honorarium he got from the tuitions and with the help of the family. He learnt about Google, YouTube and so on. From Facebook, he learnt about earning on the internet in 2015. He failed in his first attempt using the cell phone. He felt the need for a computer, but his family could not afford buying him one.
"When I joined the group Odesk Bangladesh (Upwork Bangladesh) I learnt about web designing in one of the posts. I downloaded a few PDF links from these posts and learnt HTML. But I was feeling exhausted and felt this won't do. I needed to learn a specific work. I gave a post saying I wanted to learn to work. One of the admins of the group introduced me to one from my area and he came to my house a few days later. He gave me a clear idea about how to do these works. He also gave me a clear idea about graphics design. I did not have any computer then.'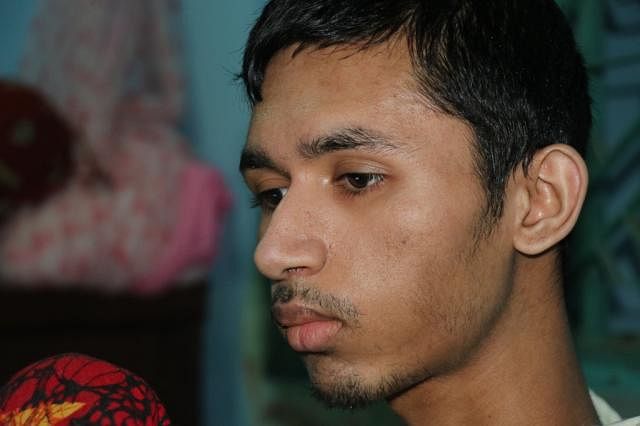 Fahimul took loan from the bank and took money from her mother and other people to buy a laptop computer in 2016. But he could not afford to use the internet. Later he learnt graphics designing buying DVDs. He learnt Photoshop and also other things from YouTube. Also he started downloading freelancing tutorial videos when there were cheap internet package offers. At first he learnt making business cards and banner. Then he came to know about Fiverr.
"I opened a Fiverr Gig following instructions from Fiverr Help Bangladesh Group in Facebook. Within a few days I found work. I completed the task in a few hours and the buyer was so happy that he gave me a bonus with five-star. My first earning was $15," he said.
Within a month, Fahimul turned a 'Level One' seller and started getting lots of works.
"I even did not get the time to eat. Sometimes, my mother fed me while I worked," he said.
Within three months, Fahimul became a 'Level Two' seller and his income was about Tk 40,000. His father lost his job in 2017. He was able to draw the money for the first time then and the amount was Tk 37,000. He opened an Upwork account in the same year and the account was approved within a few days. He managed to get Upwork tasks using his experience. Within three months, he received the badge of Upwork. He has worked in over 450 projects in the last two years.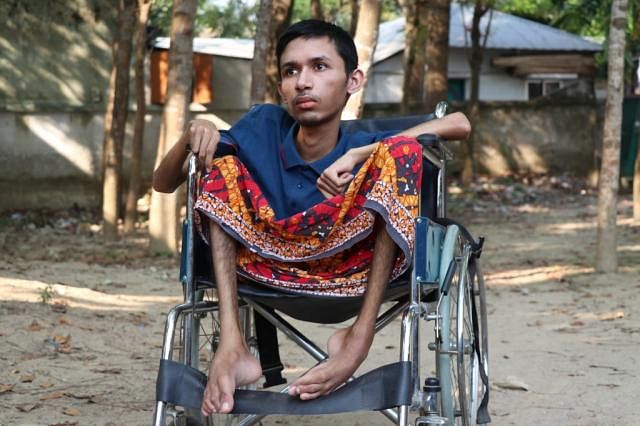 Fahimul's fingers do not work properly, but how did he manage? "I didn't lose hope. I sought my inspiration from Stephen Hawking."
He plans to launch a business saving money as he may not be able to do freelancing for long. He dreams of ensuring employment for many through the new business.
A big share of the family expenses comes from Fahimul now. His father said they think about starting his treatment again as it is affordable now.
"It takes a lot of patience to become a freelancer", Fahimul said, adding, "This is why many youths start this but do not last long. Knowing English is very essential too."
He has learnt English by watching English film shows. At first he had problems to communicate with the buyers because of language, but things have improved now.
Fahimul thinks it is crucial to remain up to date and he tries to learn new things every day. "Never think you are weak. I never think myself weak. I think I'm just like others. I work like a regular person as I need to earn for my family."
*This report, originally published in Prothom Alo online, has been rewritten in English by Nusrat Nowrin.