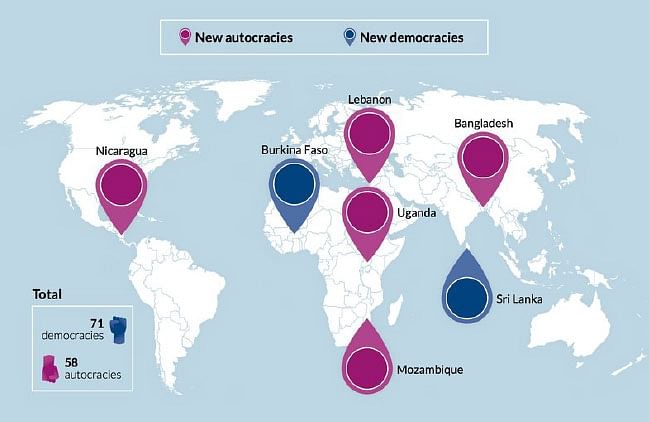 Bangladesh is among five countries where minimum standard of democracy is absent, according to a German organisation.
The country is under an autocratic government, observed Bertelsmann Stiftung in its latest Transformation Index released on Friday.
Shortcoming in elections in Bangladesh in recent times has been pointed out as sign of autocracy.
The report said that they observed setback in terms of democracy in Bangladesh.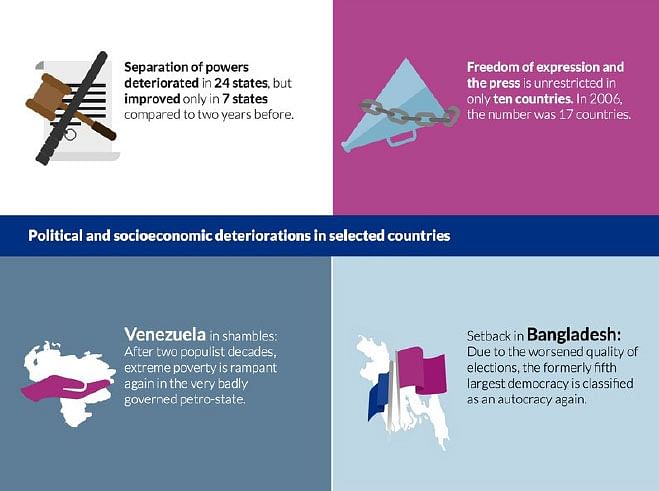 "Due to the worsened quality of elections, the formerly fifty largest democracy is classified as an autocracy again," reads the report.
The main opposition Bangladesh Nationalist Party (BNP) boycotted last elections held in 2014, demanding poll-time government for free and fair elections. The next election is due in December 2018.
Based in Gütersloh, Germany, Bertelsmann Stiftung is an independent foundation under private law. It was founded in 1977 by Reinhard Mohn.
"Only Burkina Faso and Sri Lanka were making significant progress towards democracy during the period under review. By contrast, there are a total of 13 countries, including Mozambique, Turkey and Yemen, where the political situation has become significantly worse. Five of these 13 countries no longer meet minimum standards for democracy: Bangladesh, Lebanon, Mozambique, Nicaragua and Uganda, where democracy has been gradually undermined for years, are under autocratic rule. It was often shortcomings in the quality of elections that tipped the balance," reads the report.