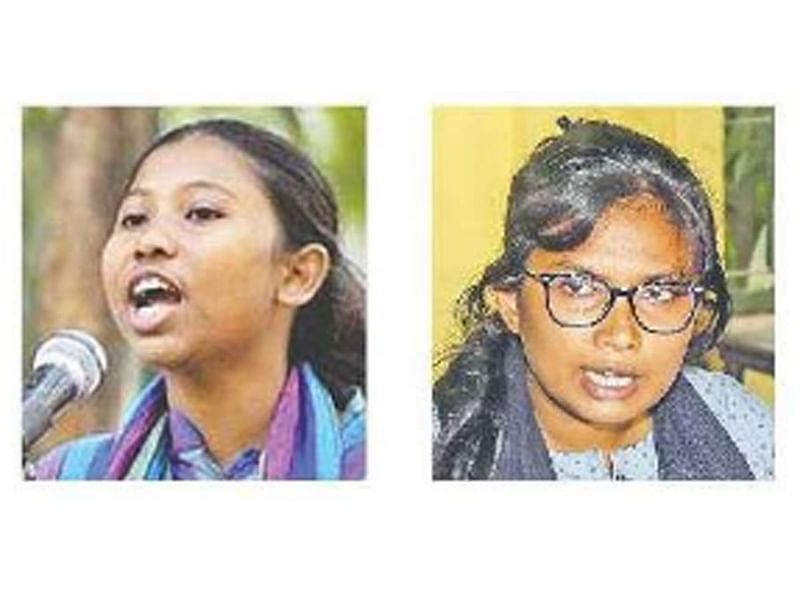 Chhatra Union president and a quota reform activist Lucky Akhter has complained that Bangladesh Chhatra League leaders and activists are using social media to harass her, with the help of the police.

Detective Branch police picked up a leader, APM Suhel, of the ongoing quota reform movement last week from Lucky's house in Shantinagar. Police took some snaps of Suhel at the time.

"I thought police were only taking Suhel's photos during the arrest, but I later saw certain content with pictures of Suhel and me on some insignificant online newspaper sites," Lucky told Prothom Alo.

Citing her concern, Lucky further added, "Only the police had those photos. How did the portals get the photos if police did not provide them with the pictures?"

The student leader informed Prothom Alo that the police had snatched everyone's mobile phones during the drive, so nobody else could have taken any photos.
Lucky Akhter lives with her husband and two younger brothers in Shantinagar. Suhel, a university junior to Lucky, went to her house to watch the football match and stayed over, when police arrested him at around 4:00am.
Lucky then posted a Facebook status describing Suhel's arrest by DB police. She came under fire in the social media shortly after the status.
Student federation president of Dhaka University Umme Habiba Benazir is also being harassed online.
Another student involved in quota reform movement who was abused and imprisoned for 27 hours, left Dhaka but was still not spared.
Lucky said, in the past when she was a part of the Ganajagaran Mancha,the Shahbag based youth-led movement, she had been abused by Jamaat-Shibir activists over the phone..
"BCL activists send exactly the same messages now. Only the abusers have changed, not the words," Lucky said.
Umme Habiba criticised the government and university administration in a speech for their silent role during the quota reform movement in front of Raju sculpture on 3 July.
Many has sent her rape threats on social media right after that, even calling her a prostitute. These abusers haven't even bothered to conceal their identities. 
There are reportedly a number of BCL leaders among those who issued the rape threats on that day.
In reaction to  the situation, Habiba has said, "I spoke some bitter truth in my speech and they couldn't tolerate that."
"Female students who are involved with the movement have two options in case of sexual harassment. Either they have to quit or carry on what they are doing with double determination. I choose the latter," she added.
Another student left Dhaka after being assaulted by BCL men in front of Central Shaheed Minar on 2 July. She was abused in many ways on social media.
A Facebook group released a private telephone conversation claiming that the female voice was hers. A relative of the girl told Prothom Alo yesterday, she left Dhaka after the press conference.
She keeps her phone switched off most of the time and does not have contact with any relatives, he added.
Supreme Court lawyer Shahdeen Malik said, "According to the law, a phone call can be recorded with the home minister's permission for the sake of state security. That means, the audio clip must be submitted before home minister."
"The way the audio clips are being spread, it is against article 43 of the constitution and against the law," he added.
The police refrained from comment when contacted regarding these three incidents.