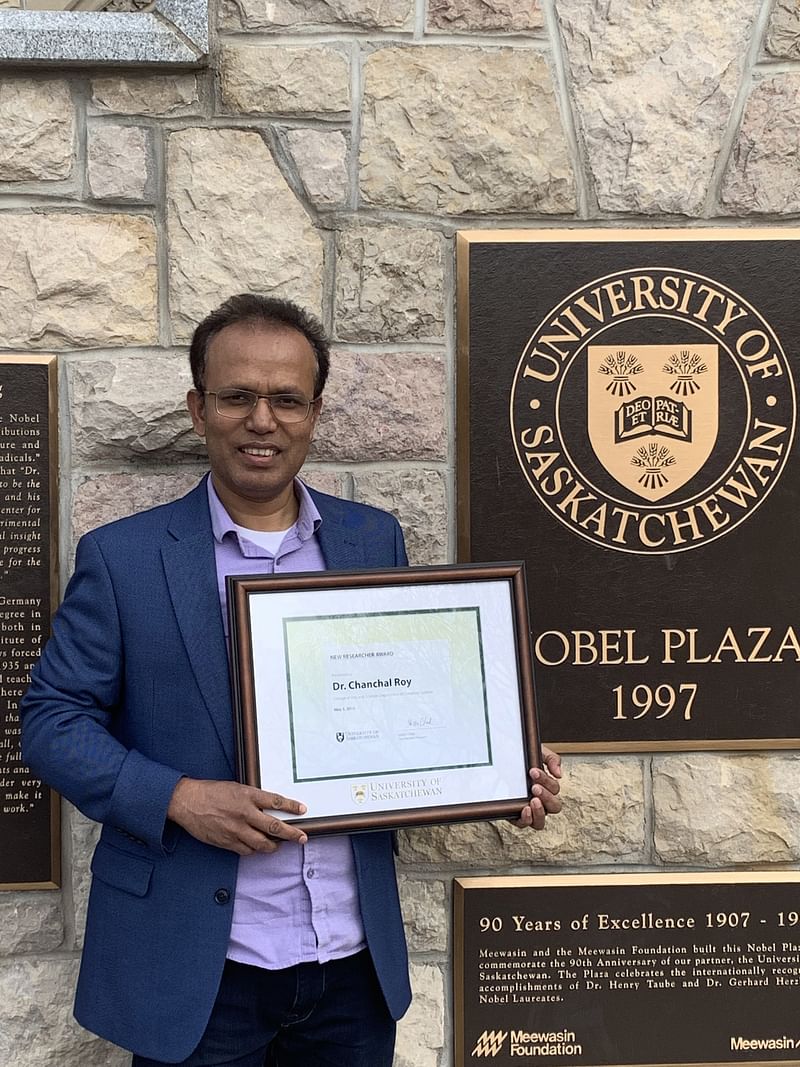 Chanchal Roy was sitting in the soft evening light at Salt Cafe in Cox's Bazar, sipping a cup of green tea. He stared through the plate glass window at the busy street outside and spoke his thoughts out aloud, "I want to invent a software that can express a person's thoughts without even a touch."
The idea may hardly seem realistic, but Chanchal likes to dream beyond reality, "I don't know if I will actually be able to do this, but that is one of my dreams."
Chanchal is not just a dreamer, he is an achiever too. Of Bangladeshi origin, Chanchal Roy teaches computer science at Canada's University of Saskatchewan. He recently came to Bangladesh on research work and took time off to visit Cox's Bazar.
Chanchal's main work is ensuring software protection. He created NiCad, a software bug and clone detection tool, very popular among computer programmers and software manufacturers. He created this tool in 2008 and NiCad has been referenced in 550 research articles around the world. And this tool has been downloaded over 2500 times.
CROKAGE is another brainchild of Chanchal Roy, offering easy solutions to programming problems. Popular US-based IT websites like Tech Republic, SD Times, ACM TechNews and i-programme.info, have published reports on this programme.
Chanchal Roy said, "I have been working for over a decade on software maintenance and evaluation. The main field of my research is detecting and analysing software clones, fighting against bugs, experimenting, large-scale information management and analysis and so on." Roy has many other tools and programme to his credit, some of which are used by the IT giant Microsoft.
Roy received the Outstanding Young Computer Science Researcher Award in 2018, the 2019 New Researcher Award, and has received many more recognitions.
Roy grew up in the village Jadavpur of Rangpur district in Bangladesh. His father was the district education officer. Third among four brothers, Chanchal Roy passed his SSC from Shyampur High School and HSC from Carmichael College. He then went on to study computer science and engineering at Khulna University. From there he went to Germany and got his post-graduate degree from the Aachen University of Technology. He earned his doctorate degree from Queens University in Canada. He then began teaching at the University of Saskatchewan. His wife Banani Roy teaches at the same university. They have two girls.
Standing by Bangladesh students
Chanchal Roy joined the University of Saskatchewan in 2009. Bangladeshi students did not get much space in the university before but now, at his initiative, the university has 200 Bangladeshi students. And with his support, the 'Bangladeshi Student Association at the University of Saskatchewan' was formed in 2010.
Presently 18 students are doing their PhD and MSc research under him, 15 of whom are Bangladeshi.
New horizons
Chanchal Roy is reaching out to new research. He is one of the leading members of the University of Saskatchewan's food and water security research team. They are researching on disaster-resistant crops, to tackle the impacts of climate change. Bangladesh will be part of this initiative. He is now in Bangladesh to train researchers in this regard.
"Software errors are a risk to people's lives," says Chanchal Roy. "A software bug led to the two Boeing 737 MAX accidents. A total of USD 1.7 trillion was spent in 2017 on 606 software bugs. And 3.7 billion people along with 314 companies were harmed. So now we are working on creating completely bug-free software."
But his dreams don't end there and he reiterates his aspiration to create software that reflects people's thoughts automatically.
*The piece, originally appearing in 'Chhutir Diney' a weekly supplementary of Prothom Alo, has been rewritten in English by Ayesha Kabir.