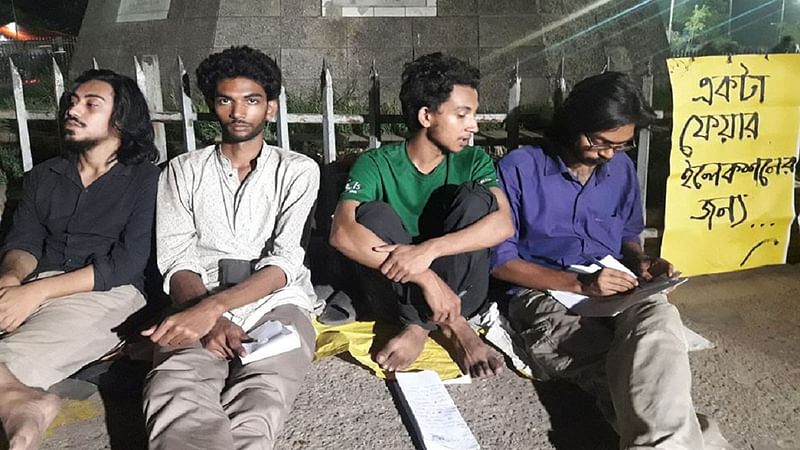 Four independent candidates along with a general student of Dhaka University (DU) started hunger strike at the foot of Raju Sculpture on the campus on Tuesday evening, demanding fresh elections to its central students' union and hall unions, reports UNB.
Among them, Anindya Mondol, a third year student of Philosophy department was a member candidate of Jagannath Hall union, Tawhid Tanjin, a fourth year student of Computer Science and Technology department, was a candidate for transport affairs secretary of Dhaka University Central Students Union (DUCSU) elections.
The others are Soyeb Mahmud, a second year student of Physics department and an independent candidate of literature affairs secretary of Shahidulla Hall union, Md Mainiddin, a second year student of Population Sciences department and an independent candidate of cultural affairs secretary of Mohsin Hall Union and Roni Hossain, a fourth year student of Geography and Environment Science department and a resident of Bijoy Ekattor Hall.
Anindya Mondol told UNB, "The results of DUCSU and hall unions are fabricated ones. The university authorities staged a drama in the name of election."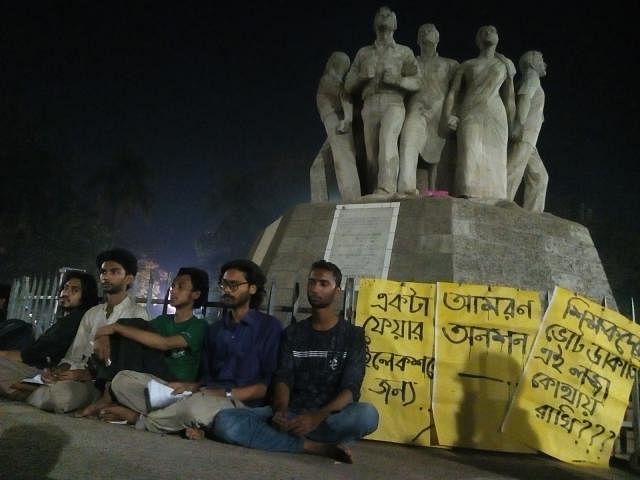 He also said they are observing hunger strike demanding re-elections at the earliest."Or else, we'll continue our hunger strike."
The long overdue elections to DUCSU and its hall unions were held on Monday.
Quota reform movement leader Nurul Haque Nur was elected vice-president (VP) of DUCSU while Bangladesh Chhatra League (BCL) general secretary Golam Rabbani its general secretary.
Eight among nine secretary posts went to candidates from BCL panel in the elections, marred by allegations of irregularities.
BCL is the student wing of ruling Bangladesh Awami League.
After the results were published, all panels, except that of the BCL, rejected the results alleging irregularities, and demanded re-election to all the posts except that of VP and Social Welfare post, and announced to boycott classes for an indefinite period.