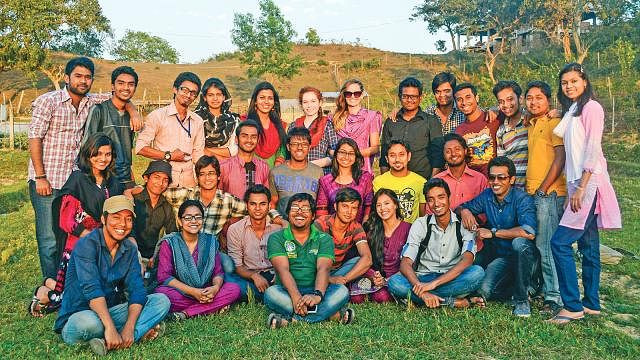 It would not be a surprise if these youths were, like many others of their age, were found making TikTok videos or hanging out with friends. Instead, they've formed a voluntary organisation 'Kaktarua' (scarecrow) that campaigns for awareness against social inconsistencies and improprieties.
Prothom Alo talked to the Kaktarua about their work.
Founder of Kaktarua Faisal Khalilur Rahman replied to the question right away.
"What scarecrows do? They are makeshift figures that scare crows away rom the crops. We do the same by working against irregularities and improprieties in the society," came his quick reply.
Faisal and his friend Shuvo Sarwar started Kaktarua. They received the Joy Bangla Youth Award from the Centre for Research and Information (CRI) for their contribution to social welfare in 2017.
Initially their activities focussed on correcting spelling in Bangla graffiti across the city. Their activities expanded and new members joined the team. The convenor of Kaktarua, Paplu Dey, also a Masters student of Murari Chand (MC) College, talked about the expansion.
"We now call it an organisation of photographs and films," he said on 22 August over phone.
Paplu's reply was backed up by the number of short films made by the organisation. They made several short films on drug addiction, fraudulence, food adulteration, sexual harassment, rape, littering and many other social irregularities. The objective of these films is to make people aware of these problems.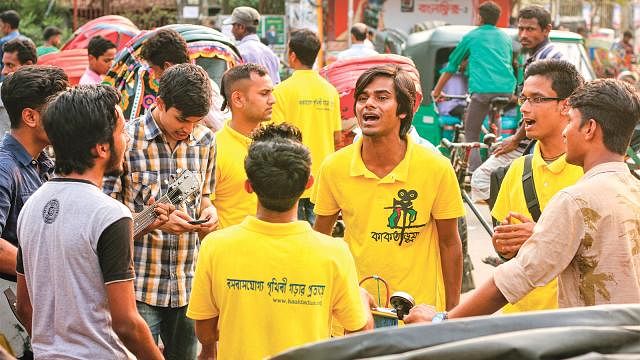 The organisation also highlights the achievements and glory of our liberation war. They also made videos on our history and culture that are available on Kaktarua's Facebook page and YouTube channel.
Nearly 100 volunteers work for Kaktarua. They are the students of Sylhet Agriculture University, MC College, Metropolitan University, Sylhet Government College, Sylhet MAG Osmani Medical College, Engineering College, Leading University, Sylhet International University, Madan Mohan College and other educational institutions. These members carry out various unique programmes by contributing 50 taka each every month.
Correcting Bangla spelling
This initative kicked off in 2014. The members gathered on Sylhet Agritculture University campus after finishing the morning rally observing 21 February, International Mother Language Day. They then started correcting errors in Bangla spelling.
As many as 20 members with their paint and paint brushes corrected wrong spellings on the walls in the university campus. The organisation requested more than 315 companies to correct spelling errors in their sponsored contents. The members of Kaktarua have corrected such errors on their own for some 202 companies.
Crowd funding for flood affected people
The people of Shalla village in Haor area of Sunamganj were affected of flash floods due to heavy rain in 2018.
"I came to know that the condition of the people in the area is worse than we know," said Paplu Dey.
Not only marginalised farmers, big farmers also fell prey to the disaster, he added.
Kaktarua members decided to collect money through crowd funding.
Members of the organisation crowd funded money through singing on the streets across the city. Many students from various educational institutions including Dhaka University and Maulana Bhashani Science and Technology University joined the cause at the time.
They managed to collect 80,000 taka that they handed to the distressed people.
In search of rising stars
Kaktarua reached out to talented youth who are interested in making films, dancing, singing, acting, reciting and other creative works. They auditioned them in multiple phases. A boy and a girl, 'Stars of Sylhet', are in the final round.
Other than the winners, any of the competitors may join the organisation, if interested, said the member secretary of Kaktarua Nowrin Islam.
The competition helps us assess the talents of a member, she added.
Nowrin hoped these youths will be social scarecrows to remove all evils from society.
*The piece, originally appearing in 'Chhutir Diney' a weekly supplementary of Prothom Alo, has been rewritten in English by Farjana Liakat