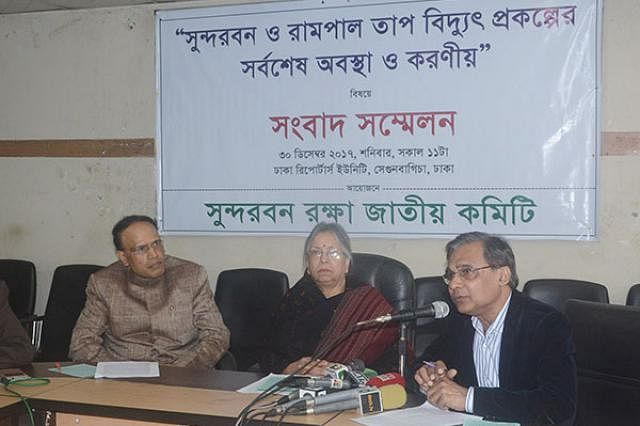 The National Committee to Protect Sundarbans said the Rampal power project would certainly destroy the Sundarbans.
"The manner in which the government is implementing the Rampal power project, the Sundarbans will be certainly destroyed," said professor Badrul Imam of Dhaka University's geology department, speaking at a press conference at the Dhaka Reporters Unity auditorium on Saturday morning.
The energy expert said then this government may not always be in power and then the people will hold it responsible for destroying the Sundarbans.
The leaders of the National Committee to Protect Sundarbans said 13 research reports carried out on the Sundarbans by world class scientists have been handed over to the prime minister's SDG affairs coordinator Abul Kalam Azad.
The government remains silent on the reports, which mean the government admits the authenticity of the studies, they pointed out.
Convener of the committee, Sultana Kamal, said the government is misleading the people by misinterpreting the decision of United Nations Educational, Scientific and Cultural Organisation (UNESCO).
UNESCO asked the government not to allow any industries or factories to be set up near the Sundarbans, let alone allowing Ramapal power project, she added.
Sultana Kamal said, "We have seen that the government has allowed 320 industries and factories near the Sundarbans."
Professor Abdul Aziz of the botany department of Dhaka University said the impact of the Rampal project will be visible within six months, and then it will be too late to do anything.
 The committee's general secretary Abdul Matin placed a five-point demand which included the immediate halt of the project and taking initiative to protect the mangrove forest, based on 13 research reports and the UNESCO recommendations.