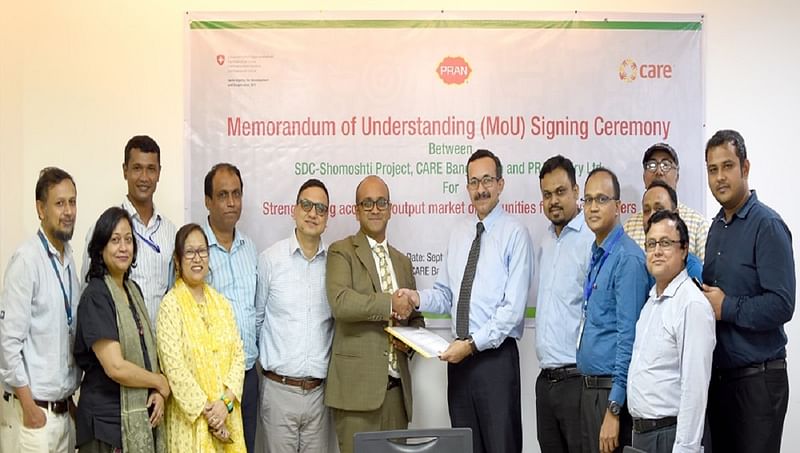 A memorandum of understanding (MoU) was signed on Wednesday to strengthen access to market opportunities for rural dairy producers under the SDC-SHOMOSHTI project, reports UNB.
The parties involved in the MoU are CARE Bangladesh and PRAN Dairy Limited. Under their partnership, a total of 1500 farmers are initially targeted and engaged into formal milk collection system in Natore sadar and Baraigram upazilas of Rajshahi region.
Md Muniruzzaman, Executive Director of PRAN Dairy, and Zia Choudhury, Country Director of CARE Bangladesh, signed the MoU on behalf of their respective sides at an event held in the city's Mohakhali.
The SDC-SHOMOSHTI project is funded by Swiss Agency for Development and Cooperation (SDC) and CARE is supporting 180,000 rural households following M4P approach under this project.
The project currently focuses on the systemic changes of local market systems in creating responsive local provision for technical and business services.
Producers from disadvantaged communities and female producers in particular will have increased access to quality inputs and improved livestock extension services by the formal dairy processors for inclusive dairy development.
Strengthened linkages for dairy producers to formal milk collection system established by the national level milk processing companies will greatly benefit poor and extreme poor people in the north, the two parties hoped.
CARE's SHOMOSHTI project will monitor the implementation of the activities to facilitate inclusive market system.