Hollywood stars arrived at the Oscars on Sunday in shimmering column dresses, jewel-toned gowns and structured and voluminous attire, flaunting bold choices that stood out on the novel champagne-colored carpet ensconced under a tent.
Best supporting actress nominee Angela Bassett, from 'Black Panther: Wakanda Forever', opted for a bright purple dress with structural flourishes on both the top and bottom of the gown.
Fellow nominee in that category, Stephanie Hsu from 'Everything Everywhere All At Once', chose a strapless fuchsia Valentino gown with a wide skirt.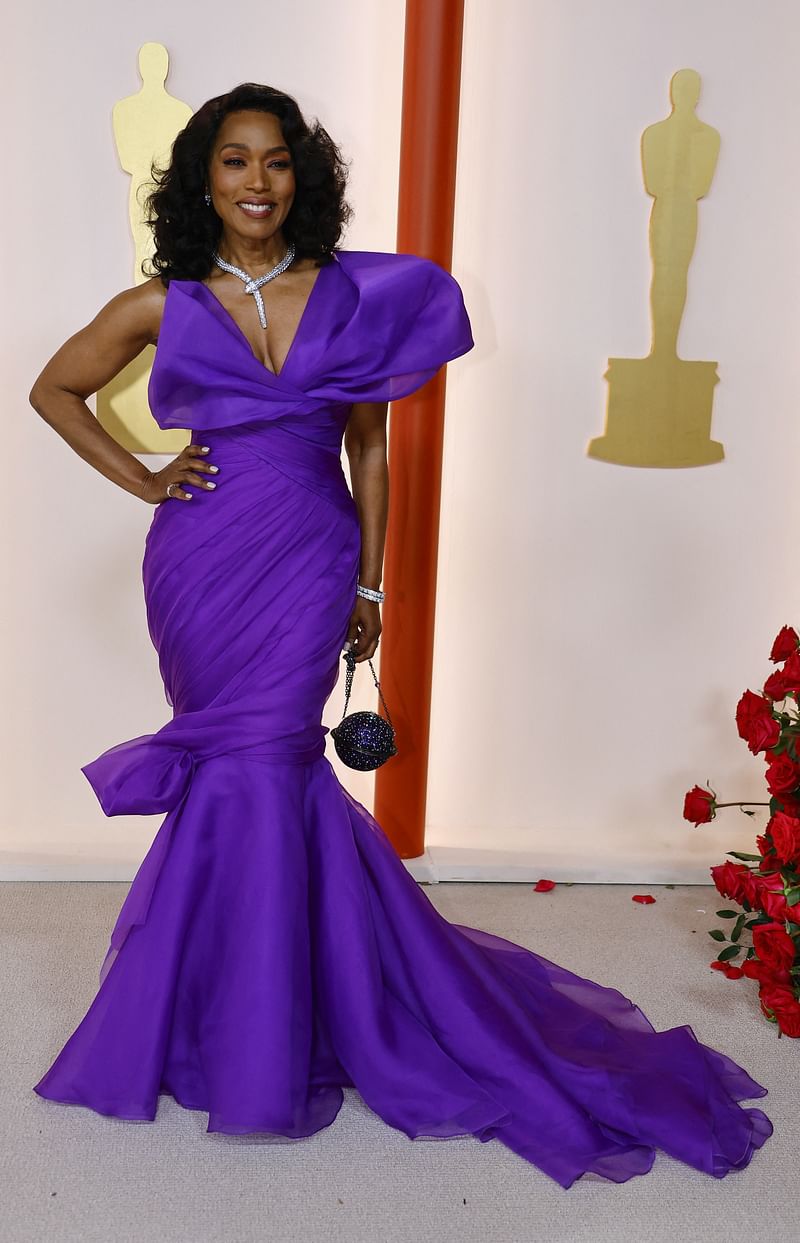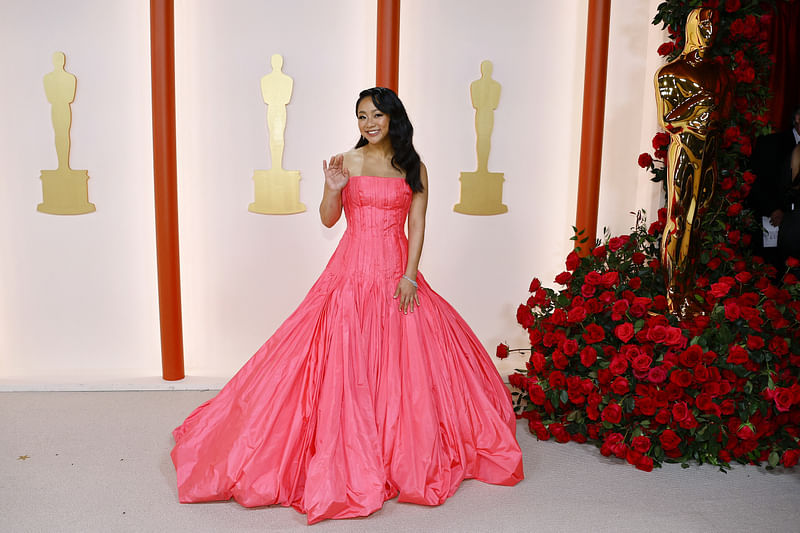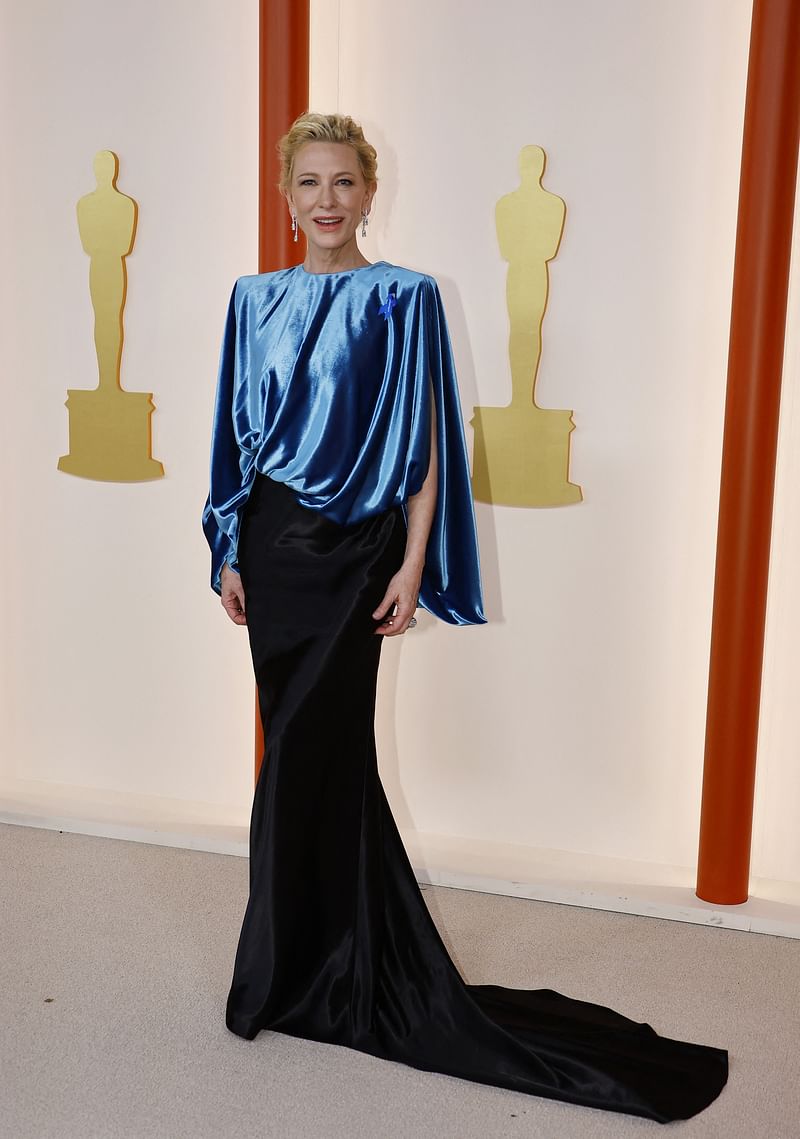 Cate Blanchett, best actress nominee for 'Tar', wore a draped azure top over a black skirt with a train.
Oscars organisers were keen to recreate nighttime glamour in the tent - in contrast to the traditional outdoor red carpet.
Zanna Roberts Rassi, a fashion, beauty and entertainment journalist and entrepreneur, called this year's Oscars fashion "absolutely exceptional."
Several attendees took advantage of the indoor lights to don shimmery silver dresses or gowns encrusted with reflective materials.
Ana de Armas, best actress nominee for 'Blonde', wore a silver column dress with a flamenco dancer-like flounce on the bottom. Ariana DeBose donned a sparkly white dress, cut low in front with transparent sleeves encrusted with shiny beads.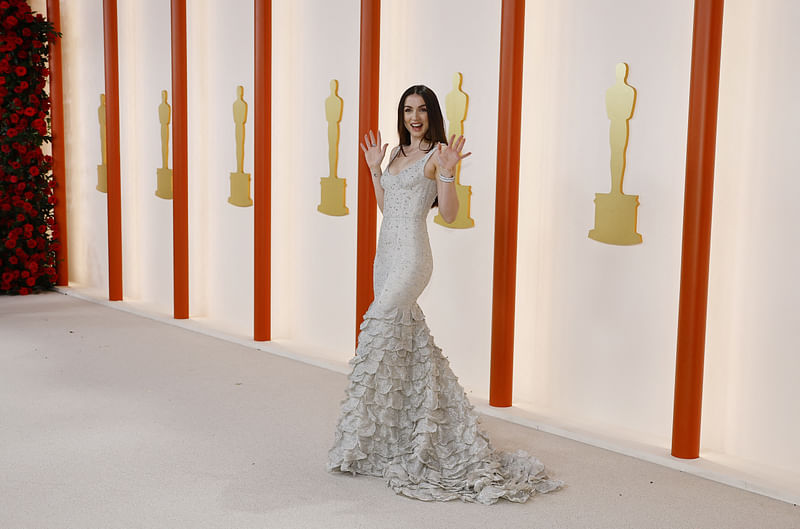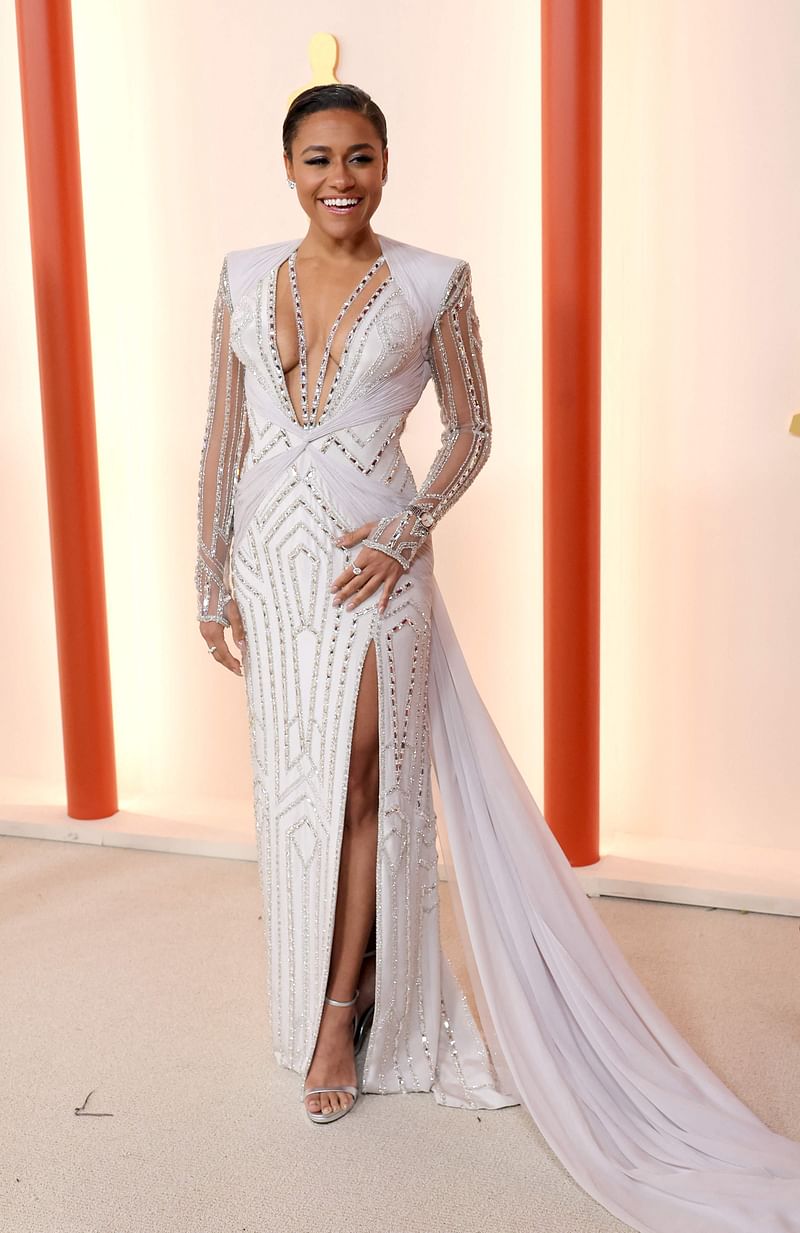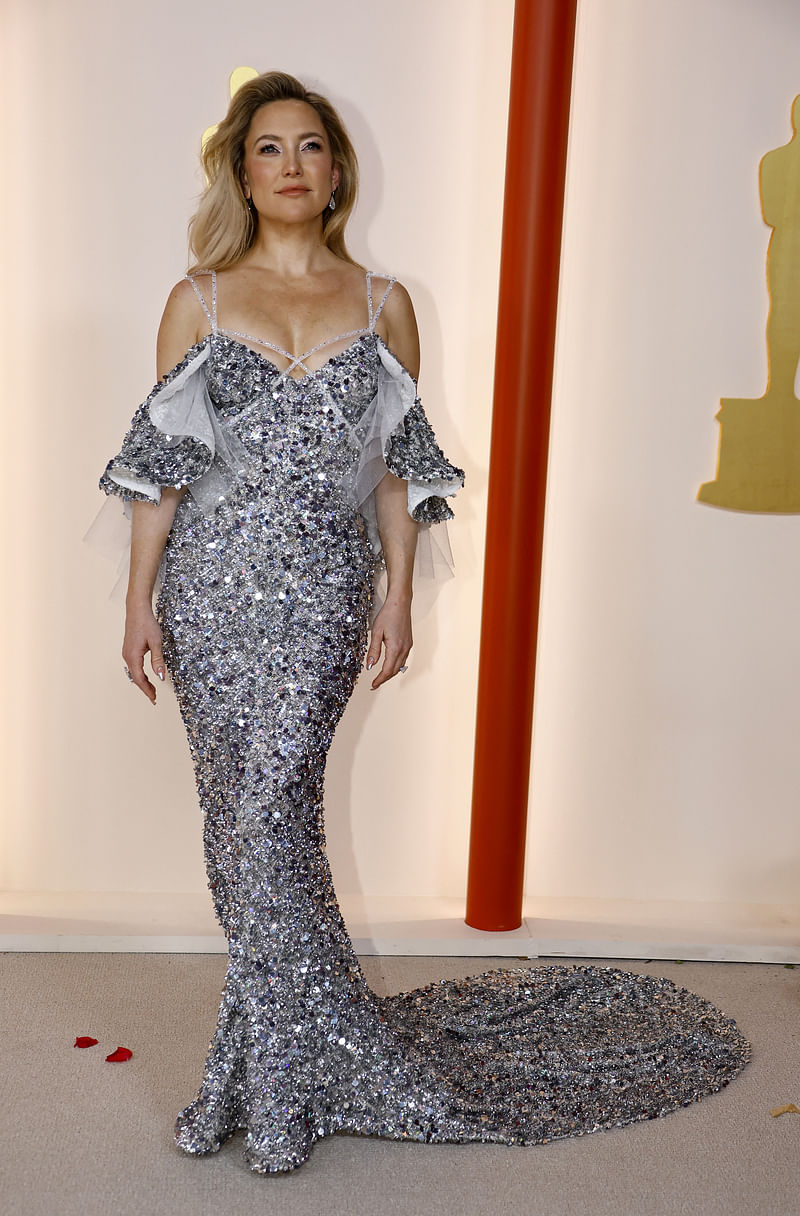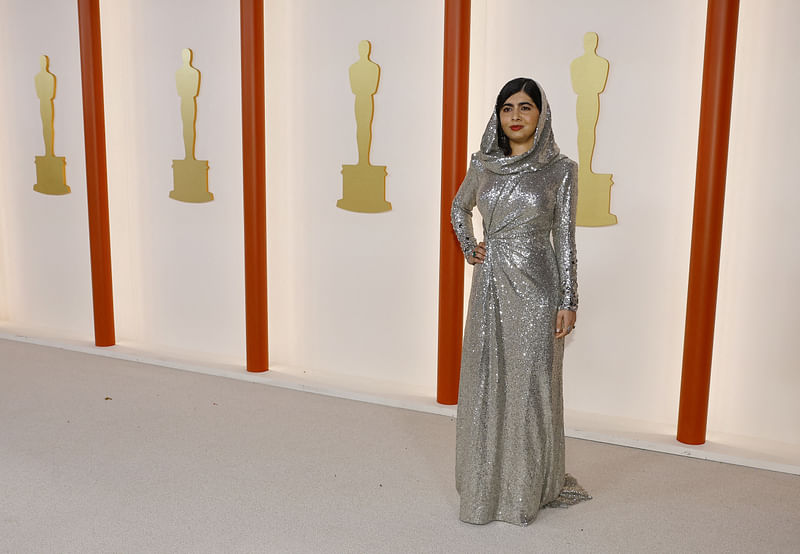 "Ethereal and silver was a big theme as well," said Rassi. "We saw Ariana DeBose in Versace. We saw Kate Hudson in an incredible Rodarte. We also saw Ana de Armas in this magnificent Louis Vuitton."
Education activist Malala Yousafzai, executive producer of documentary short film 'Stranger At The Gate', wore a shimmery silver hooded gown.
And then there were the women in white in strong silhouettes.
Michelle Yeoh, who won the best actress Oscar for 'Everything Everywhere All At Once', wore sparkling silver in her hair and a feathery white Dior gown.
Fellow best actress nominee Michelle Williams, star of 'The Fabelmans', also went for ethereal white with a sparkly silver bodice.
Jamie Lee Curtis, who won for best supporting actress for her work alongside Yeoh, rocked a sleek glittering long-sleeved off-white column gown from Dolce & Gabbana, perfectly setting off her cropped white hair.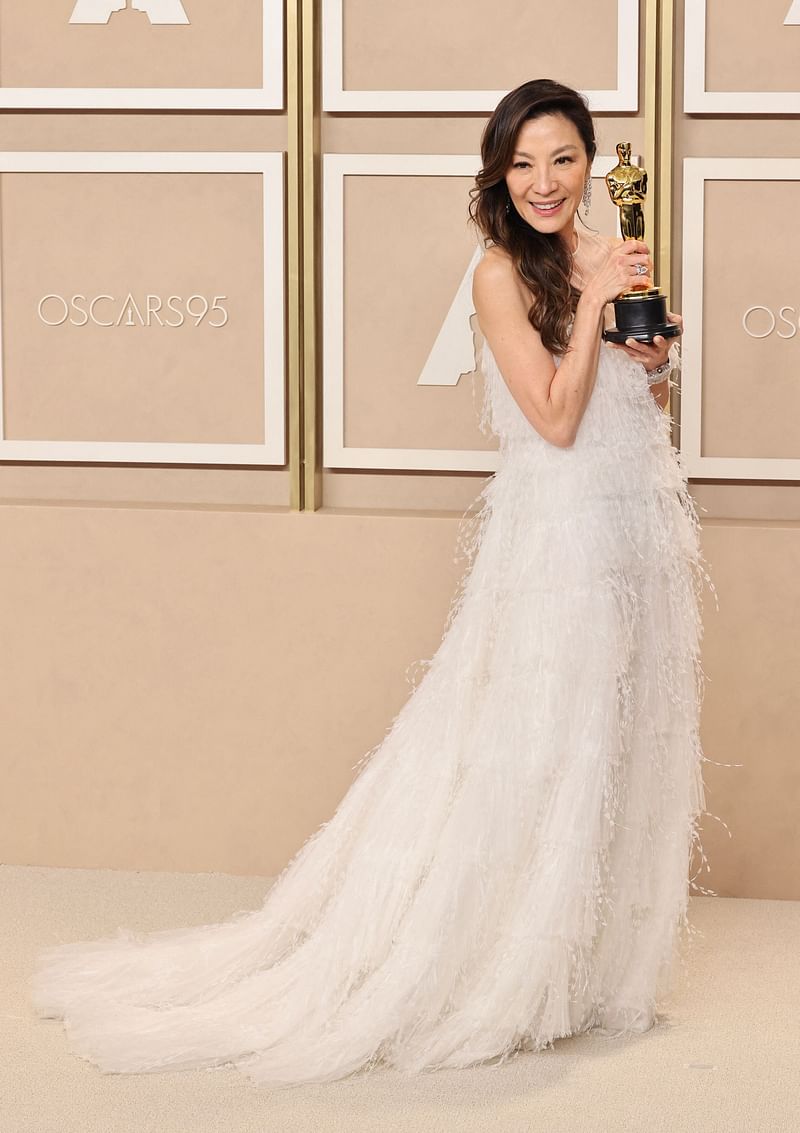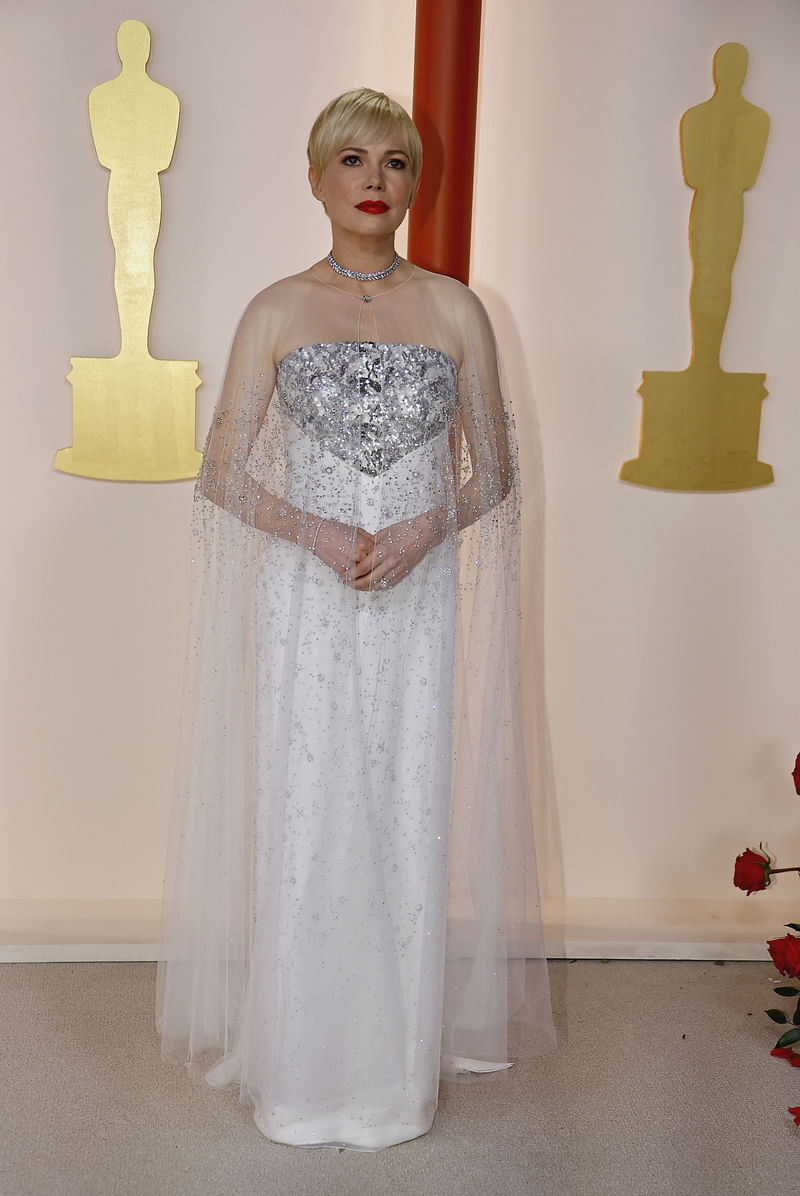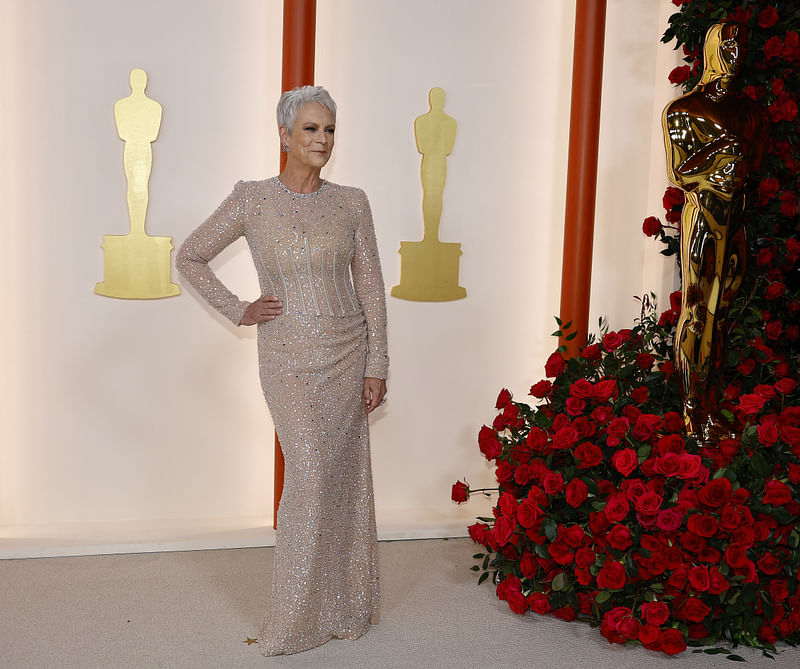 Presenter Florence Pugh, who has been shutting down red carpets for months with quirk and swagger, pushed the sartorial envelope in a Valentino gown that was all voluminous creamy taffeta on top -- and then slit extra high to reveal a black miniskirt.
Hong Chau, who scored a nod for her work opposite Brendan Fraser in 'The Whale', oozed sophistication in a cotton candy pink sleeveless Prada gown, with a Mandarin collar and an unusual fringed black train.
And Irish actress Kerry Condon, who shared the big screen with Colin Farrell and Brendan Gleeson in 'The Banshees of Inisherin', donned a lemon yellow one-shoulder Versace gown -- with another train, a definite Oscars trend.
Several women opted for gowns with high-cut slits, including Nicole Kidman in a shimmery black gown and Cara Delevingne in a dramatic red dress.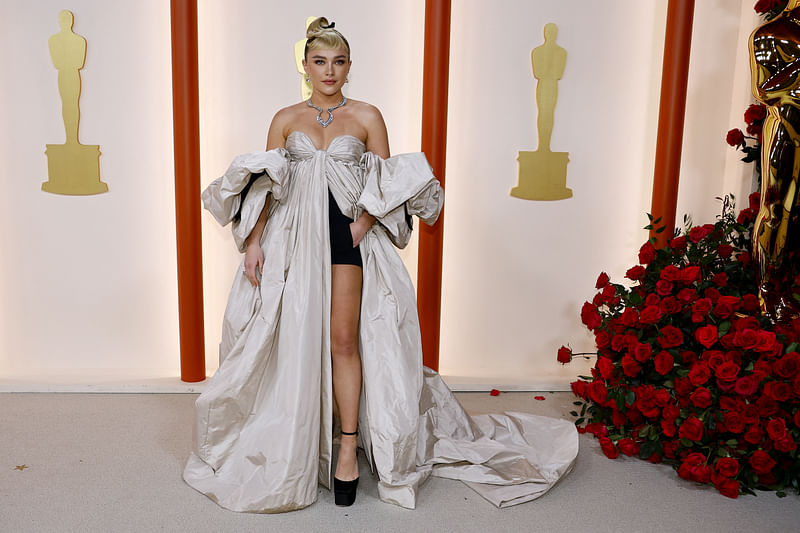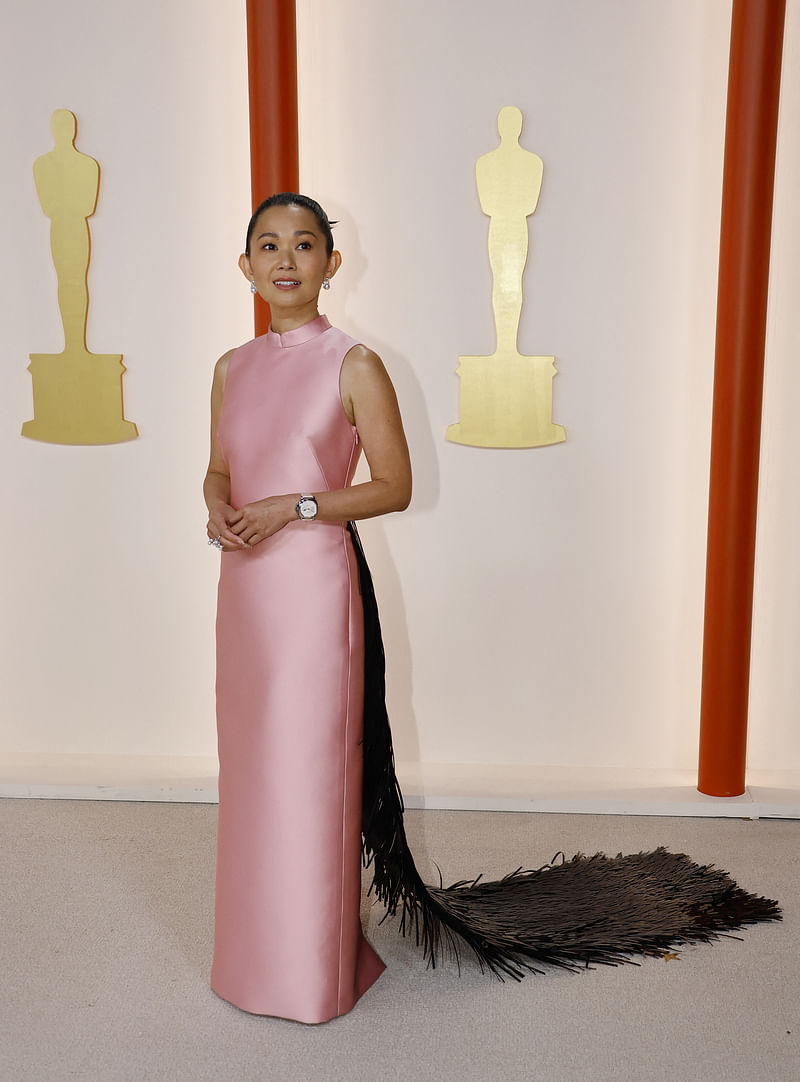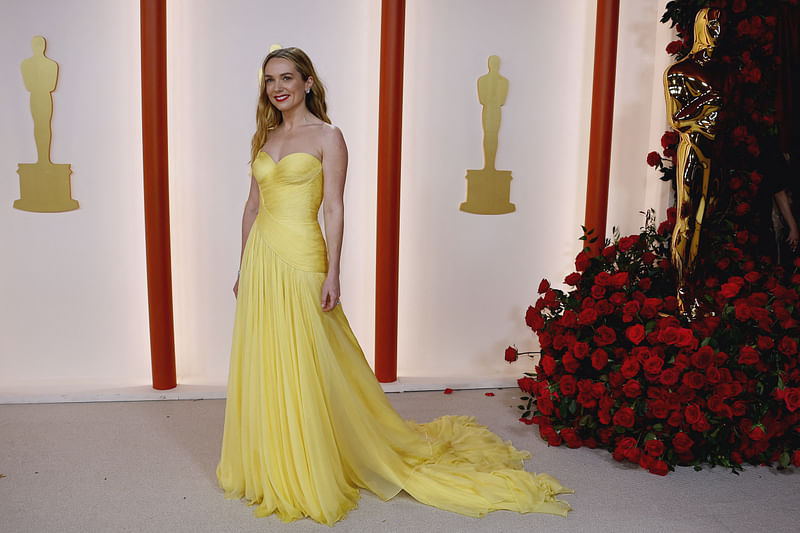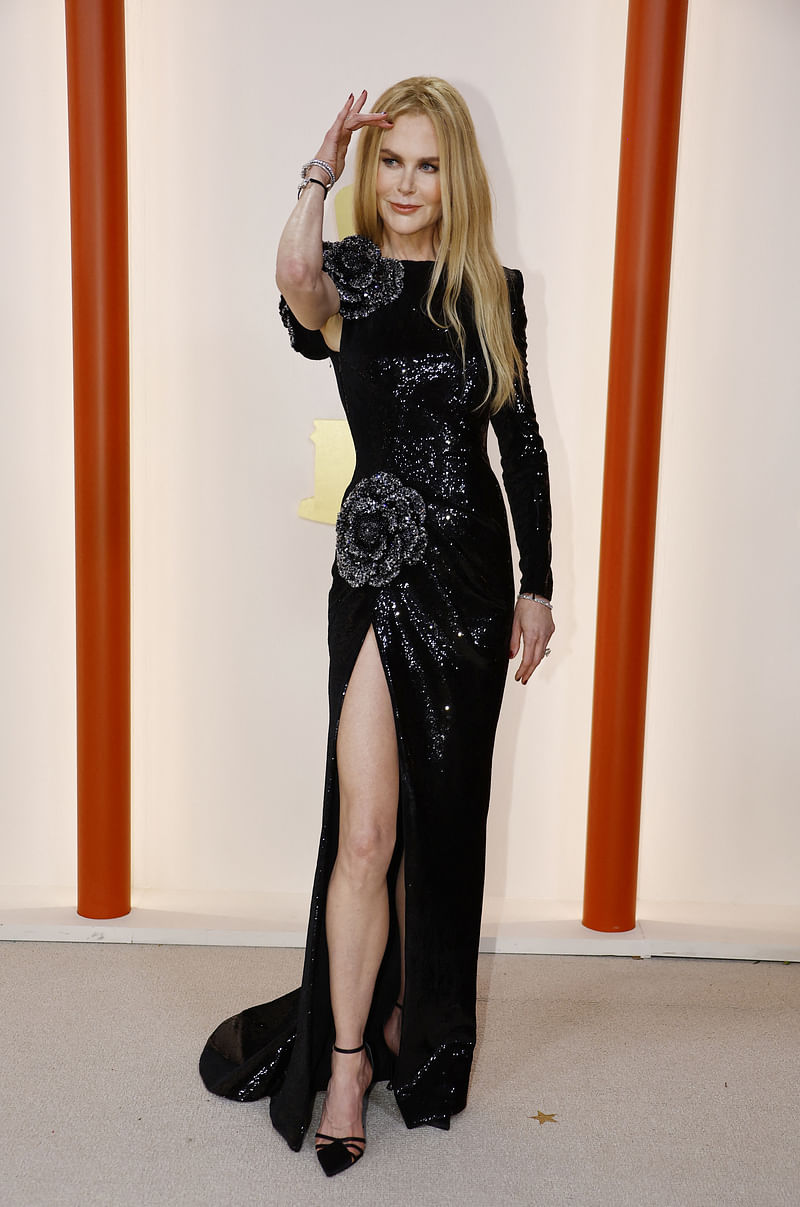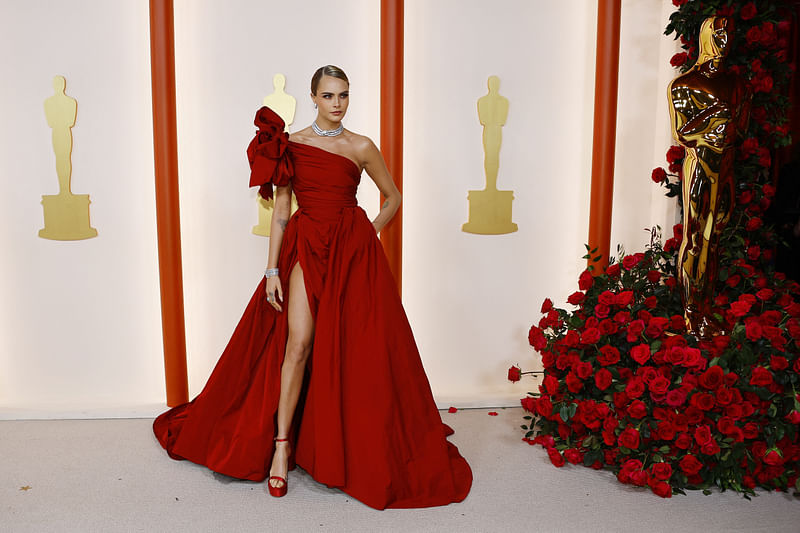 Some of the men departed from the safe choice of a black tuxedo.
Musician Lenny Kravitz wore a draped black outfit, also cut low in front, and sported a giant cross hanging down his chest.
Another musician, David Byrne, nominated for best song from 'Everything Everywhere All At Once', wore a white head-to-toe suit.
Action star Dwayne "The Rock" Johnson wore a pink satin jacket.
Sarah Polley, director and writer of 'Women Talking', opted for a black tuxedo-like suit with a ruffled white blouse rather than a gown.
'Everything Everywhere' star Harry Shum Jr embraced his Asian heritage with a white dinner jacket with midnight piping and coordinated belted sash. And for his 'Glee' fans, he danced a bit on the red carpet.
And Oscar-nominated 'Elvis' star Austin Butler wore a Saint Laurent tuxedo fit for a king -- though definitely a bit more traditional than his other awards season looks.