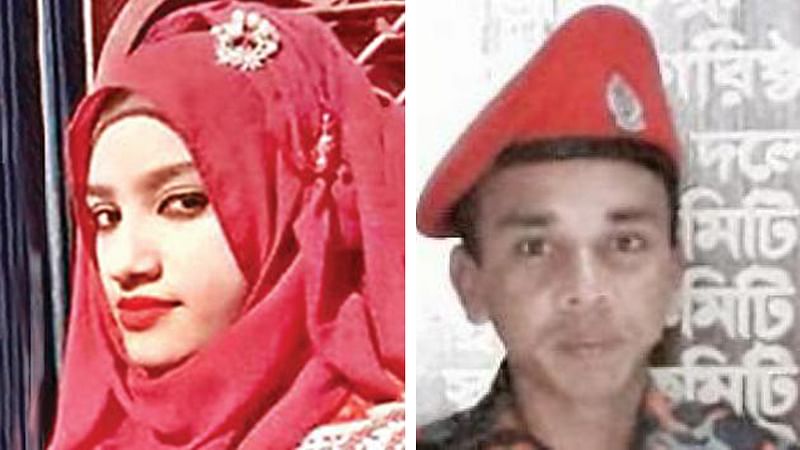 The girl who was set on fire in Feni for protesting against her teacher's attempted sexual assault has passed away.
Neither the prayers from thousands of people nor the best treatment could save her.
Nusrat's lungs and kidneys were injured. She could not be taken abroad for treatment as her condition was critical and physicians here conducted a surgery to make her lungs functional. A group of physicians from Singapore General Hospital who were due in Dhaka on 14 April, the Bengali New Year Day, on a pre-scheduled programme, would see her. But her injuries took over her before that.
One can imagine the situation when she was alive. According to Prothom Alo, the principal asked in three students including her to his room. As they arrived, only one among them, Nusrat, was allowed to enter. The office assistant, when called in, found her inside the room. He found she was sitting on the floor with her head bowed down. After he brought her out of the room, she burst into tears seeing two of her friends, who were waiting there.
The family of the girl, unlike the typical families of Bangladesh, did not try to make her forget the incident. They filed a case against the principal on 27 March. According to the media, they were being threatened and the local police station too asked the locals not to take part in any demonstrations against the principal.
But the undaunted girl on her deathbed vowed to continue her protest till the last breath. She was hailed as a hero in such a role.
Just a few days ago, another young man, Sohel Rana who succumbed to his injuries in Singapore was hailed by people with a similar stature.
Sohel Rana, who was a firefighter, sustained injuries while carrying out professional duty in a blaze in Banani, Dhaka on 28 March that killed 26 people. With him the death toll reached 27. About 70 more people are suffering from the injuries sustained. Media reports say the building was built illegally without any fire extinguishing system and the government agency RAJUK (Rajdhani Unnayan Kartripokkhya) provided contradictory reports over its legality. The same building caught fire before but no one concerned took any steps at that time.
Sohel's leg was stuck in a hydraulic ladder and broken while rescuing fire victims from this building. His stomach was punctured. Sohel was taken on life support in a local hospital and later transferred to a Singapore hospital. But he succumbed to his injuries.
Both of these young heroes apparently did not seek praises. Nor did their families wanted to lose them this way. There is no doubt about their courage and innocence. But how prudent are we to forget the fact they were victims? In glorifying these deaths and avoiding our responsibility the problems remain unaddressed.
Perhaps this is the supreme manifestation of a society that is undergoing a gradual process of numbing senses. The normal, natural ideals of achieving heroism are lost. The day Nusrat died, the first ever photo of a black hole was released. Could we imagine Nusrat or Sohel would make the headlines with such feats this April?
Such expectations are disappearing from within us. A hundred years ago Begum Rokeya compared two persons measuring the length of a pillow and of the distance between celestial bodies. Perhaps she did not imagine we would grapple with the basic human rights even after 100 years.
As a nation we are recording higher GDP, but same in terms of the number of deaths and rapes, too. According to human rights organisation Odhikar, a total of 635, including 176 women and 457 children, were raped in the country in 2018. Among them, 88 children and 89 women were gang-raped. Between 2001 and 2018, a number of 13,638 were raped. It was also revealed in the media that offenders were punished in only 3 per cent of the rape cases.
According to the media, Bangladesh witnessed 8,461 fire incidents at residential buildings in 2018 with most of them occurring in Dhaka division. A fire in Old Dhaka in February killed 70 people.
Sohel carried out his duty in a building that had no fire extinguishing system. People watched on TV and social media that fire in the densely aligned, illegal building in the upscale area of the capital forced several to jump to their deaths.
The elements for forcing a hero out of Nusrat or Sohel are through our system that is corrupt, greedy and unaccountable. Are we ready to count the numbers of the next Sohel and Nusrats?