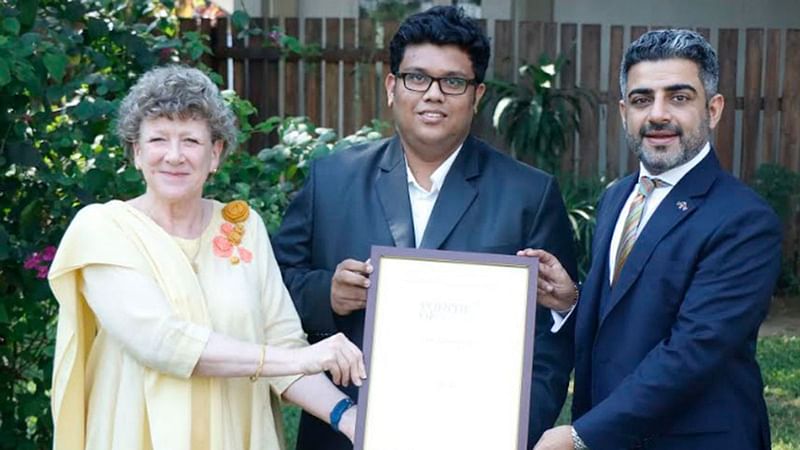 Queen Elizabeth II has recognised Arefin Rahman Himel of Bangladesh as the 37th Commonwealth Point of Light in recognition of his service for raising awareness of Thalassemia across the country, reports UNB.
In the lead-up to the Commonwealth Heads of Government Meeting in London on 19-20 April, the queen as head of the Commonwealth thanked inspirational volunteers across the 53 Commonwealth nations for the difference they are making in their communities and beyond.
By sharing these stories of service, the heads of government meeting will celebrate inspirational acts of volunteering across the Commonwealth and help inspire others to make their own contributions to tackling some of the greatest social challenges of our time.
Arefin Rahman Himel is the founder of 'Let's Fight Against Thalassemia', a project raising awareness of the hereditary blood disorder which affects the production of red blood cells.
Since 2010, Arefin has held 165 events across ten districts in Bangladesh, educating more than 10,000 young people on thalassemia carrier detection and blood donation programmes.
Through this work, there are now 4,600 free thalassemia carrier detection screening tests in 35 universities and colleges across the country.
Arefin, with the support of his team of 250 volunteers and 50 physicians, has also created an app called 'ABC of thalassemia' to further educate people about the potentially fatal disease.
Each Commonwealth Point of Light will receive a personalised certificate signed by the queen as Head of the Commonwealth.
The award for Arefin Rahman Himel will formally be presented on Friday at a Commonwealth Big Lunch reception.
Arefin Rahman Himel said the award shines a light not just on my own volunteer work but the wider work of young volunteers across Bangladesh.
"Thalassaemia is a disease that we must be aware of, and I hope the work of our platform Youth Club of Bangladesh inspires others to bring positive changes to their local community and society as a whole. I'd also like to express my deepest gratitude to the British Council for giving me the opportunity to participate in the Active Citizens programme which has undoubtedly supported me to grow as a volunteer leader."
Barbara Wickham, director, British Council said Arefin's initiative "Youth Club of Bangladesh" is both a powerful and inspiring example of youth working at the heart of their community to address social issues.
Kanbar Hossein-Bor, British deputy high commissioner to Bangladesh said he has no doubt that he will be an inspiration to other young leaders in changing their communities and help realise the exciting potential of all the people of Bangladesh.