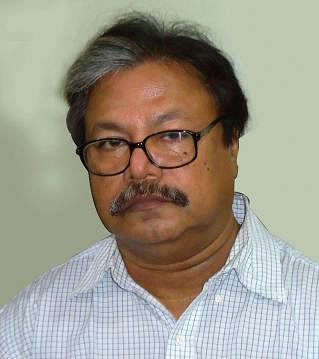 The executive committee member of Khulna district unit Awami League, Sheikh Baharul Alam, has been suspended from the party for posting a Facebook status criticising the recent instruments signed between Bangladesh and India during prime minister Sheikh Hasina's visit there.

A show cause notice has also been served to him asking to explain within seven days why he won't be expelled from the party permanently.

BUET (Bangladesh University of Engineering and Technology) student Abrar Fahad was killed by fellow BUET students and leaders and activists of Bangladesh Chhatra League a few days ago for criticising the agreements.

A press release, signed by Khulna Awami League office secretary Farid Ahmed, was sent to the media regarding the suspension of Baharul on 9 October.
The release said an emergency meeting was held at Khulna Awami League office on 9 October. Khulna AL executive member Sheikh Baharul Alam was suspended from the party for breaching party discipline, and posting Facebook status against the government head, party president and the state.
He has been asked to show cause within seven days why Khulna unit Awami League will not send a proposal to the party's central committee to expel him for good.
The status was published in a local newspaper, Somoyer Khobor, from Khulna on 7 October.
Baharul told Prothom Alo, "I haven't got any letter formally. But I haven't written anything about the party. I've criticised some issues saying India overlooked the interests of the people of Bangladesh. I have not written anything about the prime minister, any agreement or the Awami League. How have I then gone against party discipline?"
Also the president of Khulna unit BMA, Baharul on 6 October posted a status on Facebook about the bilateral instruments signed between Bangladesh and India, saying "Despite terming the India-Bangladesh agreements bilateral, in reality those are unilateral – interests and rights of Bangladesh are disregarded."
Baharul also alleged the district unit of the party took the decision against him due to envy and infighting.
"As a citizen, as an activist of Awami League and as a freedom fighter I will always try to uphold my country's interests. Can't I criticise the US, Myanmar or India as a member and activist of Awami League?" he added.
District AL president Sheikh Harunur Rashid told Prothom Alo, "Baharul criticised the decisions taken by the party high command. No one of the country reacted, why did he? He could have discussed his objections with the party members."
Harunur Rashid also said he did not take the decision alone. "The decision was taken by 16 members present in the emergency meeting of district Awami League."