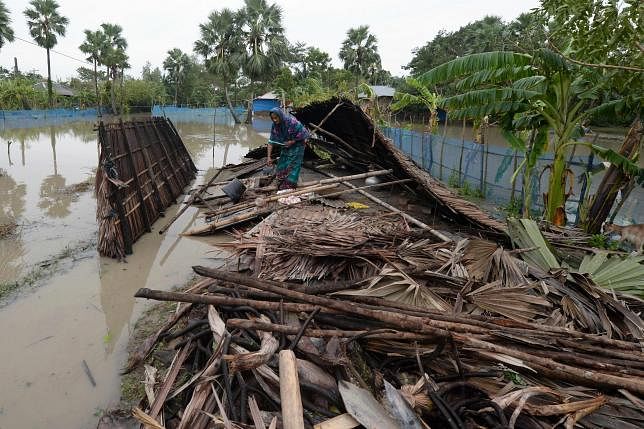 The threat of climate-related disasters has not lessened for Bangladesh and it remains at 7th position among counties most vulnerable to extreme weather conditions. However, its ability to deal with climate-related disasters has increased. At the same time, Bangladesh stands third among countries most hit by natural disasters.
This data was revealed in the Global Climate Risk Index 2020 released on Wednesday by the German environmental research institute Germanwatch at COP-25 in Madrid, Spain.
According to the report, between 1991 and 2018, Bangladesh faced 191 big disasters caused by climate change.
Puerto Rico tops this year's list of countries most at risk due to climate change. It had topped the list last year too. Puerto Rico is followed by Myanmar, Haiti, Philippines, Pakistan and Vietnam. Bangladesh ranks 7th. The picture was the same last year. Bangladesh is followed by Thailand, Nepal and the Dominican Republic on this risk index.
Bangladesh's secretary for environment, forests and climate change, Abdullah Al Mohsin Chowdhury, is presently attending the global climate conference in Spain. Speaking to Prothom Alo over phone about the report, he said, "We are now seeing the results of the various measures we have taken to tackle the impact of climate change. Bangladesh has been hit by severe floods for two years and almost every year by cyclones. But we face less damage than before. These successes of Bangladesh are being discussed at the climate conference in Spain."
Every year since 2010, Germanwatch has been publishing the report about the impact and risks of climate change on all the countries of the world. The report takes into cognizance financial losses, loss of lives and the number of disasters that affect each country. From 2010 to 2012 Bangladesh topped the list of countries most vulnerable to climate change. In the index, 20 years preceding the year of the report is taken into consideration when assessing the vulnerability of a country.
The main reasons that Bangladesh was the most vulnerable to extreme climate for these first three years were the severe cyclone in 1991, the floods of 1995 and 1996, cyclone Sidr in 2007 and cyclone Aila in 2009.
This year's report is based on the major disasters that hit Bangladesh from 1999 to 2017. Cyclones Sidr and Aila appear in the report.
The report mentioned the early floods in Bangladesh's haors (wetlands) and the floods coming in from the country's north and mid-regions. The floods spread out through India, Nepal and Bangladesh.
Bangladesh faced losses of around USD 1.69 billion over the past 20 years due to climate change, said the report. This 0.41 per cent of the country's GDP.
Emeritus professor of BRAC University Ainun Nishat, speaking to Prothom Alo, said, "This year Bangladesh was hit by two cyclones, Fani and Bulbul, and also two floods. But Bangladesh was successfull in managing these four major disasters. We have coastal embankments to protect us from the impact of cyclones and tidal surges and also embankments along the rivers and perhaps that is why Bangladesh has faced less damage due to the climate-related disasters over the past few years. But unless these embankments are repaired, Bangladesh may again be ranked as the country most vulnerable to climate change."
* This report appeared in the print edition of Prothom Alo and has been rewritten in English by Ayesha Kabir