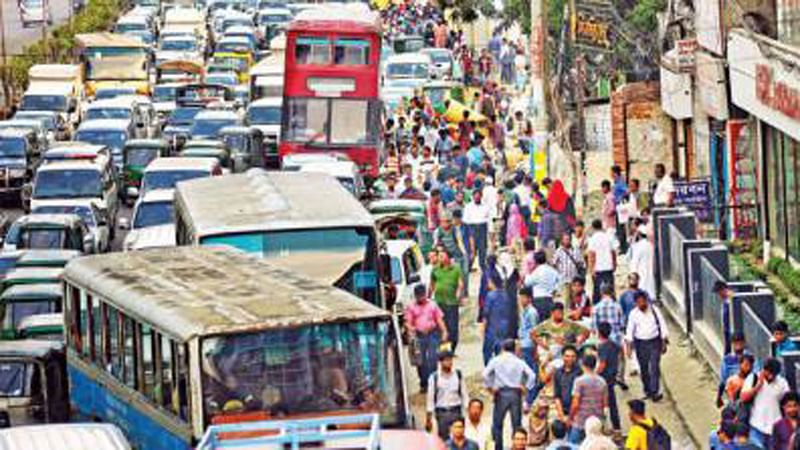 Spending hours in tailback, commuters in Dhaka city suffer from a variety of diseases caused by pressure of traffic congestion on human mind.
This was observed at a roundtable on 'Dhaka city's traffic jam: Financial and health problems' on Saturday.
It was that the city's traffic congestion eats up 5 million man hours every day.
Research findings presented there show, the average speed of vehicles in the capital city has slowed down to only 5 kilometres per hour now from 21 kilometres per hour only 12 years ago.
In a variety of research, the annual loss due to traffic jam is estimated between Tk 200 billion and Tk 370 billion and the average loss stands at Tk 370 billion a year, the roundtable was told.
Experts said in view of deteriorating traffic situation in the city day by day, financial loss would increase in the coming days.
Accident Research Institute (ARI) of Bangladesh University of Engineering and Technology (BUET) and Road Safety Foundation jointly organised the programme in the city.
ARI director professor Md Moazzem Hossain, presenting the keynote, urged the authorities concerned to take immediate steps to improve the traffic system.
Citing research findings, he pointed out that had the required measures been taken to improve the city's traffic situation, an amount of Tk 220 billion could have been saved every year.
"If the city's traffic situation does not improve, the average speed of vehicles will come further down to 4 kilometers an hour -- even less than average walking speed -- by the year 2025," Moazzem added.
He blamed narrow roads, illegal parking, occupation of footpaths and frequent diggings of roads for the traffic congestion.
Former director of National Institute of Traumatology and Orthopaedic Rehabilitaion (NITOR) professor Muhammad Siraj ul Islam said traffic jam puts negative impact on mental health that may ultimately lead to social instability.
Farah Deeba, associate professor of Dhaka University's Clinical Psychology department, said traffic jam impacts on the family life and social relations as it creates severe mental stress.
Deputy director of Fire Service and Civil Defence Debashish Bardhan said a total of 2,500 lives were lost in fire incidents in the Dhaka division alone last year. "The number would have been much lower, had there been no traffic jam," he added.
The experts recommended increase in public transport, expansion of railway network, lessening the number of personal cars and decentralisation of Dhaka city to curb the traffic congestion.
Professor Sarwar Jahan of BUET's Urban and Regional Planning department, suggested modernisation and expansion of public bus service for addressing the traffic problem.
Chairman of Road Safety Foundation and professor of DU's Sociology department AI Mahbub Uddin Ahmed presided over the session.