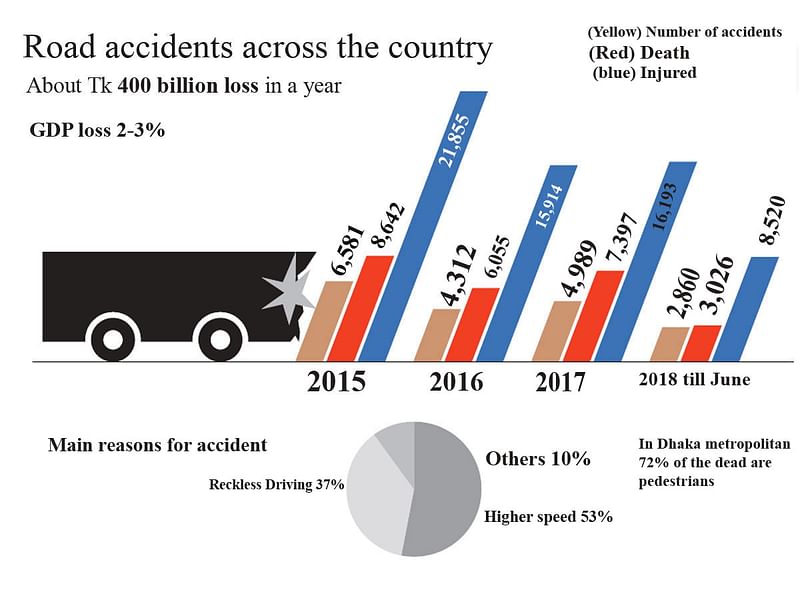 At least 25,120 people died in road accidents across the country in the past three and a half years.

This record suggests 20 people were killed in Bangladesh every day.

Another 62,482 people were injured in the road accidents that occured in the three and a half years, according to counting by Bangladesh Jatri Kalyan Samity (JKS) and the Accident Research Institute of BUET (Bangladesh University of Engineering Technology).

Reckless driving and excessive speed of vehicles in commensurate with road conditions were generally assigned as reasons for 90 per cent of the incidents.
The study concludes that most of the road crash victims, deceased and injured persons alike, were children, youth, and working force -- groups that are considered earning members of the family as well as driving force of the national economy.
The two organisations have estimated the annual losses caused by the road crashes at around Tk 400 billion.
"The government neglects road safety issue. It does not consider the losses caused by road crashes and traffic congestion a serious national issue," said Shamsul Hoque, a civil engineering teacher at BUET.
He also pointed out that the ministries concerned have neither concerns nor skilled manpower. "The problem cannot be resolved only by passing law. The entire process must be changed."
The government, according to experts, is well informed of the prerequisites for safer roads as pledges were made time and again. The only problem is that the promises are just translated into reality doe to vbested interests, they added.
Between January 2015 and June 2018, the country saw as many as 18,732 road accidents, according to JKS study. The frequency of accidents was higher in 2015.
The figures of accidents were compiled from reports in 10 national dailies, 6 online dailies along with 6 local ones and several television.
Motorcycles were involved in the highest percentage of accidents -- 34 of all. The percentage is 27.5 for trucks and covered vans, 25 per cent for buses, and 15 per cent for cars and microbuses, the study analysed.
However, the number of casualties is much lower in the records kept by 'Nirapad Sarak Chai' or 'We Demand Safe Road', an organisation founded by Bangla film actor Ilias Kanchan. It gave the figure at 13,367 deaths and 19,158 injuries in the past three years.
More than half (53 per cent) accidents took place due to higher speed, and 37 per cent for reckless driving, the study by ARI explained. It summed up that 90 per cent of the accidents occurred due to reckless driving and excessive speed.
BUET's ARI analyses information of road accidents, taken them from the police who kept records of only the ones, in which there were cases registered, not the ones which were settled through arbitration.
The number of deaths is more than double in Dhaka metropolitan areas than the casualties in other major cities, according to ARI analysis. Both population and number of vehicles is much higher in in the capital.
As many as 54 risky intersections have been identified for pedestrians in Dhaka.
Experts also blamed lack of awareness and engineering faults of the roads for some of the accidents.
"The pedestrians die due to engineering faults and lack of awareness," said Kazi Shifun Newaz, ARI researcher and BUET teacher.
"Inadequate zebra crossing, no free space in footpaths, lack of automatic signaling system, and lack of management for pedestrians' road crossing are among the culprits," Shifun added.
More than 50 per cent (54 per cent) of the victims belongs to 16 to 40 years of age, and 18 per cent is under 15 years, the ARI study found.
The country loses 2-3 per cent of its gross domestic product (GDP) due to accidents.
"The expenses, required for ensuring road safety, are actually investments. Increase in investment is required for raising GDP growth. If we invest in ensuring safe road, financial losses caused by accidents will come down and such investments will pay off, for sure," Mustafizur Rahman, distinguished fellow of Centre for Policy Dialogue (CPD).
The government has no accurate data about road accidents since the police that keeps record does not register all the accidents, the study said.
The road transport and bridges ministry is undertaking a three-year plan since 1997 and accordingly, seven plans were undertaken so far.
Mozammel Haque Chowdhury, general secretary of the passengers rights body Jatri Kalyan Samity, said, "The country is incurring huge losses due to road accidents."
"Number of road accidents could be brought down by 90 per cent if proper government programmes is taken. And road accidents will decrease largely if the agitating students' demands are met," he concluded.
Young students of schools and colleges have been demonstrating for a week since the death of two students as a bus ran over them in the city on 29 July.