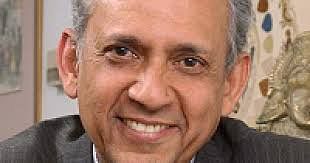 Prime minister's international affairs adviser Gowher Rizvi on Saturday said the Belt and Road Initiative (BRI), launched by Chinese president Xi Jinping, would help Bangladesh achieve its development goals showing the path where Bangladesh wants to go, reports UNB.
"So, we need not to worry. I want to emphasise very clearly - this is not a zero-sum game, it's a positive-sum game. We can benefit from all various initiatives," he said ruling out any conflict with any country or other regional initiatives which are already in place.
The foreign affairs expert said Bangladesh's support and participation in the BRI does not exclude the country from participating in other initiatives in the region, and will have no conflict with any country.
"Our prime minister (Sheikh Hasina) for the last 10 years has been emphasising the importance of connectivity," Rizvi said adding that the prime minister sees connectivity as the mechanism and route to which Bangladesh's prosperity and stability will be built.
He was addressing a launching ceremony of Bangladesh-China Silk Road Forum held at the National Press Club.
Chinese ambassador to Bangladesh Zhang Zuo, chairman of the Forum and former industries minister Dilip Barua, former information minister Hasanul Haq Inu, BNP standing committee member Abdul Moyeen Khan and writer Syed Abul Maksud, among others, spoke at the event.
Rizvi said the BRI is not only an important initiative of their time but also it goes very well with the priorities of Bangladesh.
"We've launched our own connectivity BBIN (Bangladesh, Bhutan, India, Nepal), we had already joined BCIM (Bangladesh, China, India, Myanmar) economic corridor. We're a member and hosting BIMSTEC," he said adding that all these initiatives coming together - BRI is really in many ways a purpose-made initiative for advancement.
Recalling Bangladesh's foreign policy goal, Rizvi said Bangladesh not only can take advantage of the BRI but also can promote its national interest, national prosperity, peace and stability.
"We must keep (us) out of global rivalry. We need to think of our own interest within our own ideological framework," he said.
Rizvi said there is also Indo-Pacific Strategy which India is promoting. "We, in Bangladesh, don't see any conflict between these two initiatives."
He said both the initiatives will have their own reasons and purposes to advance their goals and prosperity.
The adviser said these are essentials for Bangladesh's goals and aim - various inspirations, Vision 2021, Agenda 2030 and developed country by 2041. "And these all will collectively facilitate where we want to go."
Rizvi said it is also very important to remember the trend of Indo-China relations over the last 10 years saying India is one of the largest trading partners of China.
Regarding the formation of the forum, he said they have no reservation about it and want to absolutely welcome this initiative and congratulate all those who are associating in creating it.
Chinese ambassador Zuo said Bangladesh and China need to work together to push the bilateral relations towards a new era and better future bringing more benefits to both peoples.
"As next year will mark the 45th anniversary of China-Bangladesh diplomatic ties, we need to work together to create a congenial atmosphere for cooperation, and deepen our policy connectivity and people-to-people bond," he said.
Ambassador Zuo said the Bangladesh-China Silk Road Forum has been launched at the right moment when there is a lot to be achieved.
He said Bangladesh's diplomatic policy of "Friendship to all, malice to none", and president Xi Jinping's Thought on Diplomacy, both have provided new opportunities for win-win cooperation for the two countries.
The envoy said Bangladeshi people's dream of a strong and wealthy nation, manifested in the dream of 'Sonar Bangla', and the Chinese dream of national rejuvenation pursued by the Chinese people is interconnected and share many common merits.
He hoped the Forum would pay attention to telling good stories about China-Bangladesh friendship, passing on the voices in the communication and exchanges between the two countries, and building this forum into an important bridge for China-Bangladesh connectivity.
Dilip Barua said the concept of Silk Road is important for Bangladesh's economic development with enhanced connectivity on all fronts.
He said a 49-member forum is formed under his leadership with The Financial Express executive editor Shahiduzzaman Khan as its secretary general.
The Chinese envoy said Bangladesh is an important partner for China in the BRI and in production capacity cooperation in South Asia and the Indian Ocean region from every angle, including its location, the size of its population, its market potential and the cooperation scope.
China remains the largest trading partner to Bangladesh, while in 2018, Bangladesh became the 2nd largest trading partner to China in South Asia, and the biggest market for engineering contracts signed, according to Chinese embassy in Dhaka.
The bilateral trade reached US$ 18.74 billion, up by 16.8 per cent year on year.